Intel Sets Sights on the Skies with Drones
09/01/2015 7:00 am EST
Focus: STOCKS
Chris Lau, of Kapitall.com, highlights this semiconductor chip firm that recently decided to try something different by investing in the new hot thing: drones. Chris also analyzes its stock performance against the stocks of other companies that have made similar investments.
Intel (INTC) is branching out outside of its core competency of semiconductor chips. The firm has decided to invest in the drone market. Even though the investment is small, the potential is great. GoPro (GPRO) is also getting into this market.
Intel said on August 26 that it is investing $60 million in Yuneec, a Chinese drone manufacturer. The company explained the decision in a video announcement, describing it as a means to help develop a future in which a smart and connected world exists. To Intel, this includes the usage of drones. Intel's investment ensures Yuneec may one day incorporate Intel's chips in future solutions.
The company is also partnering with 3D Robotics in developing Edison, a microcomputer the size of a postage stamp. Edison's size would suit drones since it takes up little space while sacrificing minimal computing power. 3D Robotics and Intel said Edison would track people and objects visually instead of using a GPS. The pair also envision scalable solutions for drones where the chip is customized and adapted as required.
Intel is not the only semiconductor firm investing in the drone market. Qualcomm (QCOM) invested $50 million in 3D Robotics this past year in February.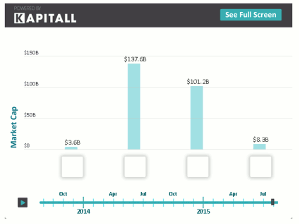 Click to Enlarge
Intel's investment will take time to bear fruit. In the near term, its growth will come from the release of its Skylake CPU family of chips. The desktop and mobile processors are much faster than previous generation chips. Skylake chips also overclock—operate more quickly than the hardware's specified clock frequency—well, which should appeal to the enthusiast market.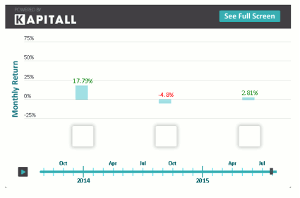 Click to Enlarge
1. GoPro, Inc. (GPRO): Develops hardware and software solutions to alleviate consumer pain points associated with capturing, managing, sharing, and enjoying engaging content.. Market cap at $6.27B, most recent closing price at $48.18.
2. Intel Corporation (INTC): Engages in the design, manufacture, and sale of integrated circuits for computing and communications industries worldwide. Market cap at $135.76B, most recent closing price at $28.42.
3. QUALCOMM Incorporated (QCOM): Engages in the development, design, manufacture, and marketing of digital wireless telecommunications products and services. Market cap at $89.04B, most recent closing price at $57.45.
(Monthly return data sourced from Zacks Investment Research. All other data sourced from FINVIZ.)
By Chris Lau of Kapitall.com