Oct 21: Another Bull Trap Reversal Update and Stock Scan
10/22/2015 7:00 am EST
Focus: STOCKS
As a follow-up to his previous article, Corey Rosenbloom, of AfraidToTrade.com, takes to the charts to examine another failed breakout attempt (bull trap intra-day reversal) in the S&P 500 index on Wednesday and highlights the day's strongest trending names as well as the bearish downtrending candidates from his weakness scan.
That's two days in a row of a failed breakout attempt or a bull trap intra-day reversal.
Hopefully we learn the lessons from the prior session when trading Wednesday.
Let's update our levels for the S&P 500 Index (SPX):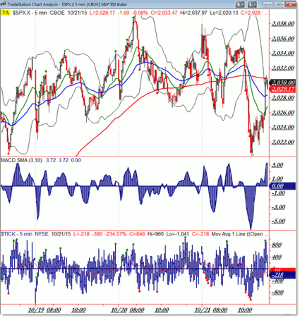 Click to Enlarge
Here's a key planning quote from Tuesday night's report:
"Stock prices—given negative divergences in volume, momentum, and internals in an extended run—have much higher probability of falling (like that of mid-October) down away from the 2,035 level."
So far, that's precisely what we're seeing in Wednesday's session, despite a little bullish trickery in the morning (and maybe into the close).
Let's See What Our Breadth Chart Reveals About Current Market Strength (or Weakness):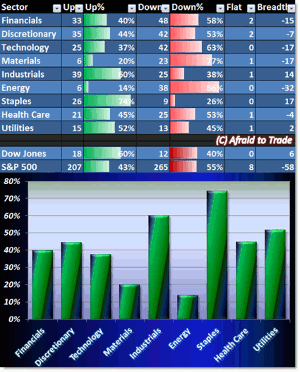 Click to Enlarge
We're seeing the Defensive Sector Groups outperform Wednesday as Staples is the strongest sector.
While Industrials (sector) is the one bullish hold-out, the other strong sectors include Health Care and Utilities.
As with price, sector money flow gives us a caution signal mid-day.
Here's a top-level or full-perspective view of today's S&P 500 stock performance (courtesy of FinViz.com).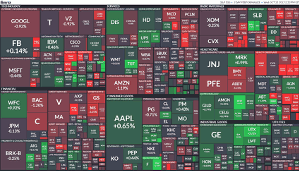 Click to Enlarge
Here are Wednesday's strongest trending (intra-day) names, candidates for pro-trend continuation: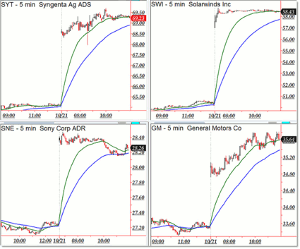 Click to Enlarge
Syngenta (SYT), Solarwinds (SWI), Sony (SNE), and General Motors (GM)
Bearish downtrending candidates include the following stocks from our weakness scan: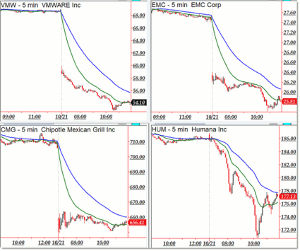 Click to Enlarge
VM Ware (VMW), EMC Corp (EMC), Chipotle (CMG), and Humana (HUM)
By Corey Rosenbloom, CMT, Trader and Blogger, AfraidToTrade.com