Is the Trend About to Turn for Metals?
02/04/2016 7:00 am EST
Focus: COMMODITIES
To answer this, Chris Kimble of Kimble Charting Solutions takes a historical look at the charts for Gold and Silver over this most recent 3-year rough patch for the metals, discusses what he is currently looking at, and explains why he feels something has to give, and when it does, it has the potential to be big.
It's been a rough three years for the metals space.
The worst three years in history for Gold and the third worst 3-year performance in history for Silver (see table below). The Power of the Pattern shared in 2011, that metals should be down for years to come.
Is the trend about to turn for metals? Below we discuss what we are looking at, per breakouts in Gold and Silver.

Click to Enlarge
Below looks at the current price pattern in Gold.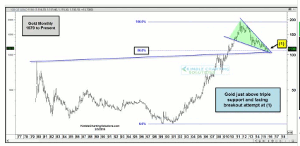 Click to Enlarge
Let's be clear about this; The trend in Gold and Silver is down and if support would break at (1), the current trend continues.
This Power of the Pattern situation has my attention; The large decline—since the 2011 highs—took Gold down to test triple support of late, at the bottom of this bullish falling wedge. It has paid to sell or short gold at falling resistance for the past three years and resistance is being tested again, at (1) above.
Will it be different this time? To see the last chart and read the entire article click here…
By Chris Kimble, Founder, Kimble Charting Solutions