Is Gold's Rally Stalling?
06/30/2010 2:17 pm EST
Focus: COMMODITIES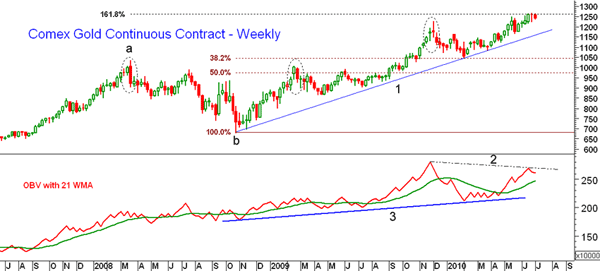 Click to Enlarge
The gold futures have been bumping into our upside target in the $1252 area for several weeks, but have not been able to move through. Though the monthly analysis indicates the major trend is up, the weekly and daily analysis suggest a more cautious approach. The weekly OBV is positive, and though it has not yet confirmed the new highs, it still could in the next couple of weeks. A weekly downside reversal would increase the odds of a correction. For an in-depth analysis, read this week's Trading Lesson, due out this Thursday.
Tom Aspray, professional trader and analyst, serves as video content editor for MoneyShow.com. The views expressed here are his own.