Two PC Giants: Time to Buy?
02/23/2011 10:45 am EST
Focus: STOCKS
Recent earnings from HP and Dell were a tale of two extremes, but these industry leaders are in play for both traders and longer-term investors.
Heavy selling in the broad market on Tuesday (Feb. 22) put Hewlett-Packard's (HPQ) earnings forecast for the second quarter in an even more negative light and the stock was hammered in afterhours trading. Lower revenue did not help either. On the other hand, Dell Computer (DELL) finally broke out to the upside last week after the company's earnings were much better than expected.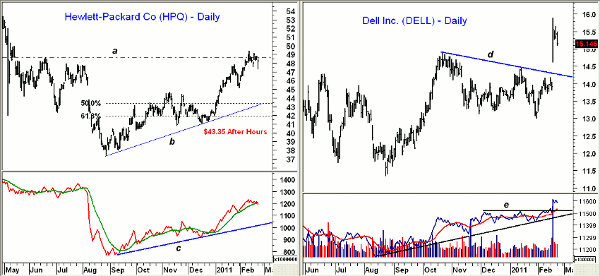 Click to Enlarge
Chart Analysis: The daily chart of HPQ reflects Tuesday's regular session close at $48.23, but in afterhours trading, HPQ traded below $43.50.
The 50% retracement support and the uptrend from last summer's lows (line b) are in the $43.50 area
The 61.8% support level is at $41.90 with key chart support at $40.77-$41.00
The daily on-balance volume (OBV) has just closed below its weighted moving average (WMA) but is likely to hold above more important support, line c, even if HPQ is sharply lower on Wednesday
The weekly OBV does show a positive intermediate-term pattern
HPQ had recently tested the longer-term resistance in the $48.65 area with further resistance in the $50-$52 area
If HPQ trades below $44 in the regular session, new resistance will then be at $45-$46
DELL reported earnings a week ago that exceeded analysts' expectations, and the stock surged 6% in afterhours trading as a result.
On Wednesday, February 16, DELL gapped almost a $1 higher on the opening, easily surpassing the trend line resistance at $14.31
Further buying pushed the stock up to $15.88 with the 38.2% retracement resistance at $16.66
There is further chart resistance at $17.50 and then in the $19-$20 area
The daily OBV did break out with prices and the weekly OBV is back to the April 2010 highs
DELL has first chart and retracement support in the $14.80-$14.90 area
The 50% support level is at $14.45 and the former downtrend (line d) is at $14.27
What It Means: With the semi-panic environment on Tuesday, the reaction to Hewlett-Packard's earnings was likely overdone as HPQ was back to good support in afterhours trading. It is likely to take some time for HPQ to complete the sufficient base building that will be required to challenge the recent highs, but the intermediate-term outlook remains positive. For long-term holdings in HPQ, I would certainly not sell on this news, but instead use a stop as recommended below.
Over the next few months, DELL is likely to provide a better opportunity for traders, as a further correction that partially fills its recent gap should provide a good entry point.
How to Profit: In January, I recommended buying HPQ at $43.35-$43.77 with a stop at $40.59, but the order was never filled. I would stay with that recommendation for now (risk of approximately 7.3%) while I expect HPQ to be well above these levels by the end of 2011. For those who have experience with options, the plunge in HPQ could create some opportunities as call premiums will likely collapse.
As for Dell, it is likely be a better choice for traders over the next few months. I would buy DELL at $14.28-$14.48 with a stop at $13.46 (for a risk of approximately 7%). On a move in DELL above $16, raise the stop to breakeven.
Tom Aspray, professional trader and analyst, serves as senior editor for MoneyShow.com. The views expressed here are his own.