3 Bad Bets on a Nuclear Rebound
03/16/2011 9:29 am EST
Focus: STOCKS
Despite rebounding from Tuesday's lows, the charts of these nuclear energy players indicate that current owners should tighten risk and would-be bargain hunters should stay away.
The widening nuclear disaster in Japan has caused many of the world's governments to take a closer look at their plans to expand nuclear power generation. Germany's decision to shut down seven plants reflects a dramatic shift in policy by Chancellor Angela Merkel. Even countries like India and China, who seem to have fewer alternative ways to meet their burgeoning power needs, are also taking a second look.
Though General Electric (GE), Entergy Corp. (ETR), and Shaw Group (SHAW) also have considerable non-nuclear revenue sources, a decline in nuclear power plant construction would have a significant negative impact on all three.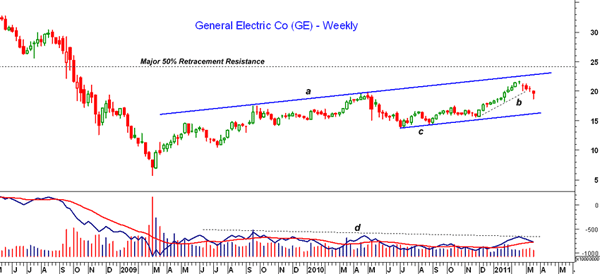 Click to Enlarge
Chart Analysis: General Electric Co. (GE) was looking to expand its $1 billion nuclear-related service business, but its involvement in the now-crippled Japanese power plants makes this expansion less likely. Looking at the last ten years of price action, GE shows a clear pattern of lower highs and lower lows. It was a $60 stock in 2000, but fell to $42 in 2007, and recently peaked just over $21.
GE's weekly chart shows that it failed to reach the trend line resistance (line a) earlier this year. The rally failed well below the major 50% retracement resistance just above $24


The short-term uptrend, line b, was broken last week with next support at $17.50. A drop below the November lows at $15.63 and trend line support (line c) would clearly reassert the downtrend


Even though the price chart shows marginally higher highs, the weekly on-balance volume (OBV) has been weaker, failing to move above resistance at line d


The daily chart has initial resistance in the $20.10-$20.50 area and a close above $21.20 is needed to turn the daily chart positive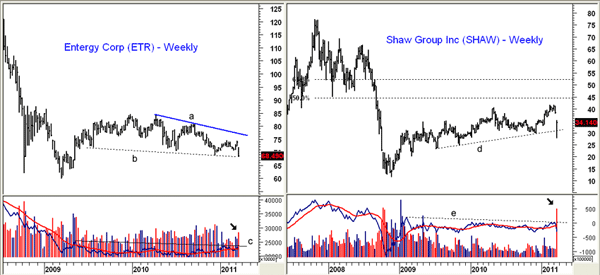 Click to Enlarge
Entergy Corp. (ETR) owns and operates 12 nuclear power plants in the US. Though some fundamental analysts are sticking with their positive outlook for the stock because they find the relatively high yield (currently 4.7%) attractive, the charts suggest the stock is still quite vulnerable.
The weekly chart shows a pattern of lower highs and lower lows, lines a and b


ETR peaked at $127.48 in January 2008 and hit a low in 2009 of $59.87. The rebound in ETR has failed well below the 50% retracement resistance at $86


This week's close may be below the last swing lows at $68.65 as well as the 61.8% support, which, given the heavy volume, would be quite negative. Next support is at $63.39 and then the 2009 lows


The flat action in the weekly OBV also suggests distribution, not accumulation, which is another negative sign


Any rebounds will find resistance first at $70.50-$70.70 and then at the gap in the $72 to $73.46 area
Shaw Group Inc. (SHAW) is a heavy construction company that designs and builds nuclear plants. The company's stock hit a high of $77.30 in 2007 before dropping to a low of $11.47 in late 2008.
The rally from the 2008 lows has fallen well short of the 50% retracement resistance at $44.50. The down gap on the current weekly chart creates major resistance at $38-$41.62


The weekly support (line d) was violated this week, though SHAW has rebounded sharply from the lows. A weekly close below $28.70 would clearly be negative. There is additional support at $25.30 and then at $23.20


We've seen heavy volume this week and the weekly OBV is likely to close well below its weighted moving average (WMA). The OBV has been weaker than prices for the past two years
What It Means: Though some investors may interpret the recent selling as an opportunity to pick up bargains, or in the case of ETR, a good yield, the charts suggest they are likely to move lower, not higher, for the rest of the year.

How to Profit: For those who are currently long any of these stocks, I would look for a rebound in the next week or two to lighten up your positions. If these stocks are able to close the week well above Tuesday's lows, then a stop under those lows would be appropriate.
Alternatively, options could be used to help protect existing long positions, though the options in ETR and SHAW are not extremely liquid. Despite the market's sharp decline, there are some sectors such as energy and health care where the technical picture looks much more promising than in these three stocks.