Best Biotech Bets Under $7
04/27/2011 10:56 am EST
Focus: STRATEGIES
With biotech rallying, investors who really want some bang for their buck should consider three smaller (but more risky) stocks, each one featuring strong charts and low price tags.
The S&P Biotechnology Index bottomed at 929 on February 24, just three days after the S&P 500 peaked at 1344.03. Biotech then continued to move higher over the next few weeks as the overall market was declining.
Since the close on February 24, the biotech group is up 13.2% while the S&P 500 is just 3.1% higher.
Big biotech companies like $52 billion Amgen (AMGN) get the lion's share of the attention from the press and investors when biotech sector moves. Though AMGN looks positive technically after Tuesday's 2.8% gain, it is up just 10.3% from its March lows.
Much smaller Dendreon (DNDN), a stock I recommended on March 25, is still a $5.2 billion company, and from its March lows, it is up a robust 29.2%.
But the real bang for your buck—which is accompanied by much higher risk—is in the smaller biotechnology companies. For example, Spectrum Pharmaceuticals, Inc (SPPI) is just a $500 million company, one tenth the size of DNDN, and one hundredth the size of AMGN. From its March lows, SPPI is up 46.3%.
The three biotech companies under $7 I will look at today all have compelling technical patterns, but they are appropriate only for the most speculative part of your portfolio. In addition, one biotech giant I earlier recommended avoiding now looks attractive for new positions.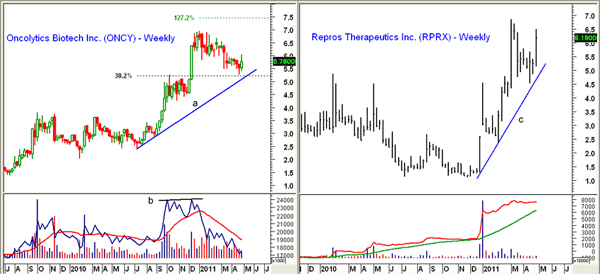 Click to Enlarge
Chart Analysis: Oncolytics Biotech, Inc (ONCY) is a $400 million, Canada-based company that develops viruses as potential cancer therapeutics. It is the least liquid of the three stocks, trading around 150,000 shares daily. ONCY peaked early in the year at $6.95 and this week has dropped close to the 38.2% retracement support at $5.20.
The weekly uptrend (line a) is in the $5.10 area with the 50% support at $4.70


Weekly on-balance volume (OBV) did confirm the December highs (line b) but then dropped below its weighted moving average (WMA) in early January. It is still below its WMA, while the daily volume (not shown) has just turned positive


There is initial chart and retracement resistance at $6.12 with stronger resistance at $6.34


A daily close above $6.55 should confirm that the correction in ONCY is over
Repros Therapeutics, Inc. (RPRX) is a very small ($70 million) developmental-stage biopharmaceutical company that concentrates on developing small molecular drugs for both male and female reproductive disorders. It trades 470,000 shares daily and is due to report earnings on May 9.
The weekly chart shows a wide range this week, and a close above $6 will strongly suggest the uptrend has resumed. There is weekly chart resistance at $6.70-$6.85


The spike high in 2010 was at $9.92 and RPRX traded over $55 per share in early 2009


The weekly OBV shows very strong accumulation since late 2010 and is still in a very bullish uptrend


The volume has picked up nicely over the past two days, suggesting that the short-term pullback is over


There is initial support now at $5.80-$6.00 with stronger support at $5.20-$5.40
NEXT: Another Hidden Treasure in Biotech; How to Profit |pagebreak|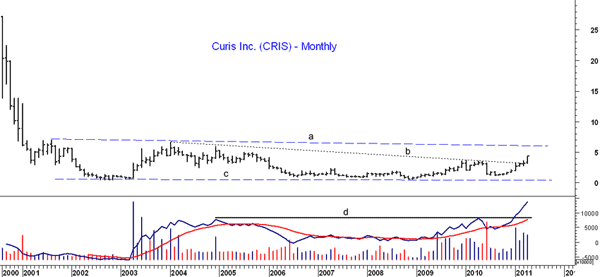 Click to Enlarge
Curis, Inc. (CRIS) is a $330 million drug discovery company that is also in the field of cancer therapeutics. CRIS is scheduled to release earnings before the opening on Thursday, April 28.
Though the month is not quite over, I am featuring a monthly chart because it shows the major base (lines a and c) that CRIS has formed


The eight-year resistance, line b, was overcome at the end of March with the close at $3.25. CRIS closed Tuesday at $4.35 with next major resistance in the $6.00 area, line a


A move through this level will project a move to the $11-$12 area


The monthly OBV completed its bottom formation in January 2011 as it broke through resistance at line d. It is acting stronger than prices


The weekly and daily OBV measures (not shown) are both positive


There is initial support now at $3.95-$4.05 and then at $3.80. There is much stronger support in the $3.40-$3.60 area
What It Means: The strong relative performance of the health care sector, and especially the biotech sector, makes them an attractive area for new investments. These three small companies have significant upside potential despite considerable risk, and wider stops need to be utilized in establishing initial positions.

How to Profit: ONCY is now closest to good support. I would advise going 50% long at $5.63 and 50% long at $5.44 with a stop at $4.86 (risk of approx. 12.1%). On a move above $6.82, raise the stop to $5.16.
For RPRX, go 50% long at $5.68 and 50% long at $5.36 with a stop at $4.78 (risk of approx. 13.4%). On a move above $6.93, raise the stop to $5.06.
CRIS is the toughest buy given the strong close on Tuesday and with earnings due out on Thursday. Go 50% long at $4.23 and 50% long at $4.06 with a stop at $3.53 (risk of approx. 14.8%). On a move above $4.92, raise the stop to $3.88.
Portfolio Update: Over the past month, I have recommended several biotech stocks and will take this opportunity to update those positions.
Previous longs on Dendreon (DNDN) from $32.74 should have sold half the position at $35.82. I would now raise the stop from $31.48 to $36.33.
Buyers should also be long Human Genome Sciences (HGSI) at $27.35 and should have raised the stop to $26.44 from $25.66 on the move above $30.05. The stock looks strong, but I would still sell half the position at $31.33.
On April 12, I recommended avoiding Celgene Corp. (CELG), but it has rallied nicely after holding the support at $54.80. CELG completed its short-term continuation pattern on Tuesday and now has upside targets at $61-$62. The company will report earnings on Thursday, April 28.
I would now buy at $57.36 with a stop at $54.67 (risk of approx. 4.7%). On a move above $59.20, raise the stop to $55.54, and sell half the position at $61.33.
I also recommended buying iShares Nasdaq Biotech ETF (IBB) at $97.55-$98.10 on March 31, but the buy level was not reached. Too bad, as it closed Tuesday at $106.19.
My recommendation to buy Savient Pharmaceuticals (SVNT) was also not filled and I would now cancel that buy recommendation.