Another Casino Stock to Bet On
05/09/2011 10:07 am EST
Focus: STRATEGIES
Another Casino Stock to Bet On
A boost in consumer confidence should be good news for most, but not all, casino stocks. Having done well with my first casino recommendation in March, I give you one more to consider here.
Consumer sentiment improved in April, according to the Thomson Reuters/University of Michigan survey, and that could be a plus for the US gambling industry. Though some doubts still exist about the health of the economic recovery, the recent retail-sales data was also much better than analysts expected.
A more confident consumer is what the casinos need—not only do they have to get guests to visit, but those visitors also need to be economically secure enough to gamble.
At the end of March, I recommended buying Melco Crown Entertainment (MPEL) which operates a group of casinos in Macau. At the time, MPEL's chart showed a major upside breakout, and in fact the stock is now up over 30%.
The recent strong performance of the S&P Gambling and Casino group suggests that there may be opportunities in the other casino companies. While MGM Resorts International (MGM) reported better than expected earnings last week, Las Vegas Sands Corp (LVS) disappointed investors.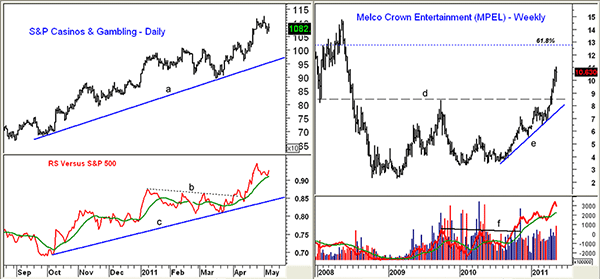 Click to Enlarge
Chart Analysis: The daily chart of the S&P Casino and Gambling group shows that it broke out to the upside in late March. It is up 20% in less than two months.
There is trend-line resistance at 1,150, with additional chart and retracement resistance in the 1,250 area
The relative performance (RS) confirmed the price action by breaking through resistance (line b). It is in a strong uptrend and has just turned up from its WMA
Initial support now sits at 1,050 with stronger levels at 1,000-1,020. The longer-term uptrend is in the 950 area (line a)
Melco Crown Entertainment (MPEL) gapped through major resistance (line d) in early April, confirming that a major base had been completed.
The 50% retracement resistance at $10.75 has now been overcome, with the 61.8% resistance level now at $12.75. This is calculated from the 2008 high of $17
The weekly OBV broke out of its base formation last October and has risen sharply over the past eight months. It turned down this week, but still looks strong
Initial support is now in the $9.80 to $9.50 area, and then $9
The weekly uptrend (line e) and very strong support sit in the $7.45 area
|pagebreak|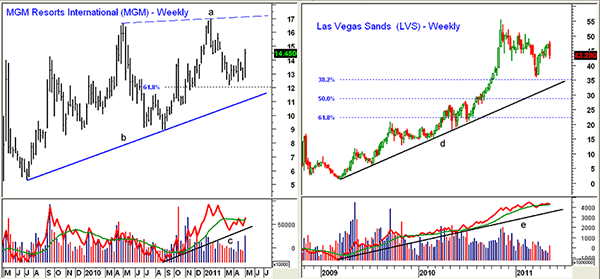 Click to Enlarge
MGM Resorts International (MGM) closed strong last week on good volume, as it surpassed the highs of the prior seven weeks.
The next resistance can be found at $15 to $15.25 and then at $16. The upper boundaries of the recent trading range are in the $17 to $17.20 area (line a)
The weekly OBV was much stronger than prices in early 2011. It pulled back to good support, and has now moved back above its WMA, consistent with higher prices
Initial support now sits at $14 to $14.20, and then in the $13.50 to $13.70 area. The 61.8% support at $12.05 held in March, and now represents major support
Las Vegas Sands Corp (LVS) dropped down to the $36 area in March, after which it staged an impressive rebound. The rally appears to have stalled last week, as it gapped lower last Tuesday and closed the week on its lows.
The next support for LVS is at $40.70, and if it is broken the March lows should be tested
The 38.2% support level is at $35, with the longer term uptrend (line d) now at $33.70
The weekly on-balance volume (OBV) was stronger than prices early in 2011, as it made new highs. It has been flat for several weeks, and is now close to violating its WMA. The daily OBV (not shown) has broken initial support
There is first resistance at the gap in the $44.08 to $45.37 area, and then stronger levels at $46.50
What It Means: Strength in the casino stocks is a positive sign for consumer confidence. Last night, Las Vegas was booming—I know, because I was there and had to wait 45 minutes just to get a taxi at the Las Vegas airport.
The strong price action suggests that MGM is ready to at least test the upper boundaries of its longer-term trading range. MPEL still looks positive technically, but has had a good run so stops should be tightened. LVS should stay under pressure until the market digests its weak earnings.
How to Profit: If you followed my initial recommendation, you would be long MPEL from $7.62 to $7.70, and would have sold half the position at $10.17 for a 32% profit. Raise the stop now on the remaining position from $7.21 to $8.91.On a move above $11.10, raise the stop to $9.44.
For MGM, traders should go 50% long at $14.08 and 50% at $13.64, with a stop at $12.83 (risk of approx. 7.4%). Cancel this order if MGM hits $15.45 first. If filled on the long side, sell half the position at $15.88 and raise the stop to $13.93.
No recommendation for LVS at this time.
Tom Aspray, professional trader and analyst, serves as senior editor for MoneyShow.com. The views expressed here are his own.