Nasdaq 100's Most Overbought Stocks
10/24/2011 11:08 am EST
Focus: STOCKS
Some leading tech stocks may have gone too far too fast and are now trading at high-risk levels, while others are showing signs of continued upside ahead.
In an early-October article, I discussed the most oversold Dow stocks, which focused on the results of one of the scans that I run each weekend.
It is based on Starc band analysis, as I have found that it is important to know which stocks or ETFs are closest to their monthly and weekly Starc+ or Starc- bands. When a security is close to its monthly Starc- band, it indicates that it is already oversold. Statistically, this makes it more likely that the security will stabilize or rebound rather than continue to drop sharply.
Conversely, when a security is close its weekly Starc+ band, it means that caution is warranted when initiating new long positions and that patience is likely the best course.
These scans also give me an opportunity to look at the relative performance, or RS analysis, on individual stocks, which can help to determine whether the oversold or overbought readings present good trading opportunities.


Click to Enlarge
Looking at the Nasdaq 100 index, there are ten stocks that are within 5% of their weekly Starc+ bands. It should be pointed out that the proximity to either Starc band alone is not a reason to buy or sell. It can be a source for adding new stocks to your watch list, as they are likely to present good trading opportunities once their prices reach less-extreme levels. Also, it can give you an opportunity to sell a stock that is acting weaker than the market when it is close to resistance.
NEXT: Buyers Beware of This Overheated Nasdaq Leader
|pagebreak|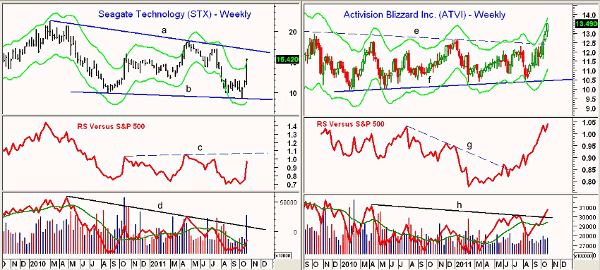 Click to Enlarge
Chart Analysis: Seagate Technology (STX) rallied sharply this past week, getting a boost not only from its earnings, but also from the possibility that it would take market share away from competitor Western Digital (WDC), whose plants in Thailand were impacted by flooding. STX has risen 60% from its low of $9.05 just a few weeks ago.

STX closed last week above the weekly Starc+ band
The weekly chart shows that STX is still in a two-year trading range, lines a and b
There is strong resistance now in the $17-$18.35 area. This corresponds to last summer's high and the intermediate-term downtrend, line a
The weekly RS has risen sharply but is still well below resistance at line c
The volume was heavy last week, but the weekly on-balance volume (OBV) has just moved above its weighted moving average (WMA) and is still in a long-term downtrend, line d
Activision Blizzard Inc. (ATVI) is a well-known, $15 billion electronic gaming company. It is scheduled to release earnings on November 8. The weekly chart shows that ATVI has surged sharply through 30-month resistance at line e.
The close last week was 2% below the weekly Starc+ band at $13.80
ATVI hit a high in 2008 at $19.28, and there is major retracement resistance in the $15 area
The RS line is rising very sharply, having broken its downtrend this summer when the stock started to outperform the S&P 500. This is positive for the intermediate term
In contrast to STX, the weekly OBV has confirmed the price action, as it has also broken through its resistance, line h
There is first good support in the $12.50-$13 area
NEXT: Ominous Chart Signals for Google (GOOG)
|pagebreak|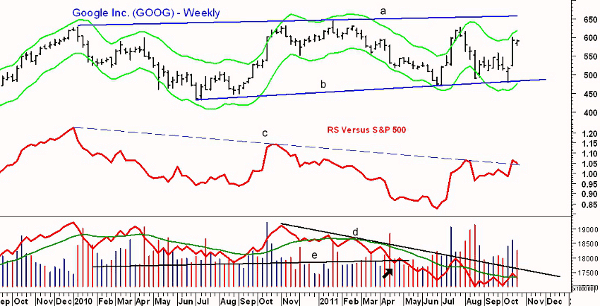 Click to Enlarge
Google Inc. (GOOG) has gotten lots of attention recently as earnings surprised the Street two weeks ago and it surged from $480 to almost $600 in just one week. In contrast, the ranges last week were quite narrow. This suggests the rally may already be running out of steam.
If GOOG can move above the $600 level, there is further resistance at $627 and major resistance in the $640-$650 area, line a
The weekly RS line has just slightly overcome its downtrend, line c, which has been in effect for the past year
The weekly OBV is also acting much weaker than the price action, having dropped below support, line e, in April
It is still well below its downtrend, line d, and dropped below its weighted moving average this week
What It Means: The weekly analysis of Seagate Technology (STX) and Google Inc. (GOOG) indicates that the current rally is likely to fail despite the positive outlook for the overall market. The combination of the weak on-balance volume and unimpressive RS analysis suggests that these stocks will not be market leaders.
On the other hand, the upside breakout in Activision Blizzard Inc. (ATVI) combined with the positive technical readings suggest this stock can still go significantly higher. As a result, a pullback should be a buying opportunity.
How to Profit: For ATVI, go 50% long at $12.94 and 50% long at 12.62 with a stop at $11.62 (risk of approx. 9.1%).