2 Safe, Strong Specialty REITs
01/04/2012 11:00 am EST
Focus: REITS
Every portfolio needs a high-yield component made up of strong assets with manageable risk, and these two specialty REITs fulfill each of those requirements.
The winning stock strategy for 2011 was to buy high-yielding stocks, and following yesterday's surge in global markets, the focus may now move more towards growth stocks. The technical action in the stock market does favor further gains, though the market is likely to take a few days to digest its gains.
Nevertheless, I expect high-yielding stocks in strong sectors—including the Dow stocks discussed yesterday—will do well, and these should make up a part of all portfolios.
One group that looks quite interesting in terms of yield and risk is specialty REITs, and there are two in particular that I like.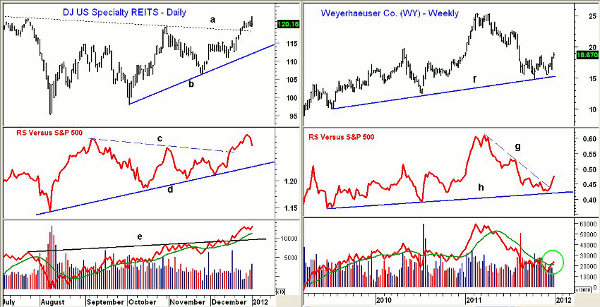 Click to Enlarge
Chart Analysis: The Dow Jones Specialty REITs Index broke through major resistance, line a, last week. There is further resistance at the April 2011 highs of 123.53, which is more than 2.5% above current levels.
The relative performance, or RS analysis, broke its downtrend, line b, in December and is in a clear uptrend (line c)
Daily on-balance volume (OBV) has also been very strong, moving through five-month resistance (line d) in December
A pullback in the Specialty REITs Index to the 116.50-118 area is likely over the near term, which should be a buying opportunity
The uptrend, line b, is now in the 112 area
Weyerhaeuser Co. (WY) is a $10.2 billion industrial REIT that concentrates on the forest product industry. It currently yields 3.2%, and in November, it tested long-term support in the $15.40 area, line f.
The 38.2% Fibonacci resistance from the early-2011 highs at $18.79 has been overcome
The 50% retracement resistance stands at $20.04
The year-long downtrend (line g) in the RS line has been broken, suggesting that it is starting to outperform the S&P 500
RS analysis has long-term support at line h
Weekly OBV has just moved above its weighted moving average (WMA), which is consistent with an intermediate-term bottom
Initial support now stands at $18 with stronger support in the $16.90-$17.30 area
NEXT: Another Promising REIT with Manageable Risk
|pagebreak|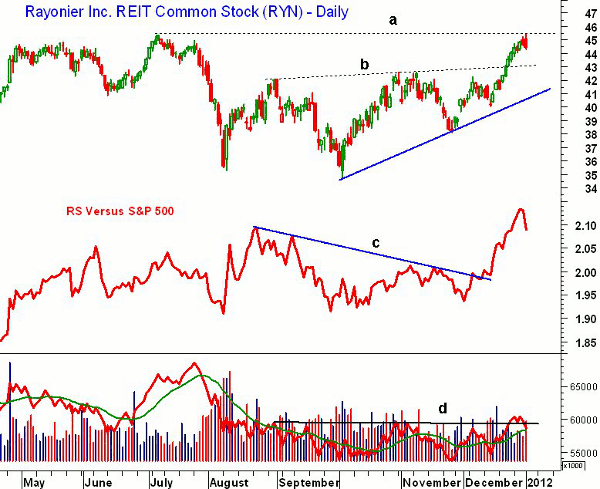 Click to Enlarge
Rayonier Inc. REIT (RYN) is a $5.4 billion company that engages in the sale and development of real estate and also in timberland management. It has just reached major resistance at $45.24 from July. It currently yields 3.6%.
On a breakout above these highs, the 127.2% Fibonacci target is at $48.30
The RS line moved through its downtrend, line d, in December, and has already broken out to new highs. This suggests that prices are likely to follow
The daily OBV has moved through resistance at line e, and the weekly OBV (not shown) has just made new highs
Initial support now stands at $43.40 with stronger support in the $41-$41.30 area
What It Means: The RS analysis on the specialty REITs does suggest that they will outperform the S&P 500. The yields are currently attractive, and on any setbacks, they will look even better.
How to Profit: For Weyerhaeuser Co. (WY), go 50% long at $18.12 and 50% long at $17.48 with a stop at $16.12 (risk of approx. 9.4%).
For Rayonier Inc. REIT (RYN), go 50% long at $43.42 and 50% long at $42.38 with a stop at $39.86 (risk of approx. 7.1%).