Another Round of Cliff Selling?
Focus: ETFs
With the last FOMC meeting of the year out of the way, focus shifts back to the countdown to the fiscal cliff. MoneyShow's Tom Aspray shares what the charts say about the short-term outlook for the markets as we head into the last few trading days of the year.
The S&P 500 made new rebound highs in the middle of the afternoon, but then the sellers took over as the press conference by Fed Chairman Ben Bernanke made traders more nervous. The upside breakout early in the week likely stopped out the majority of those who remained on the short side of the market.
The stock index futures were weak early Thursday, but are now flat. After a 7.3% gain in the futures from the November lows to yesterday's highs, the markets are overdue for a rest. The selling could be exacerbated by the realization that our leaders in Washington are even more stubborn/incompetent that we previously imagined
Now that the FOMC meeting is behind us, we still have the Euro Council meeting that ends on Friday. After the June meeting, there was an uptick in volatility and if the Eurozone ministers start fighting, it could pressure stocks over the near term. The strength of the consumer is a growing concern after last week's drop in consumer sentiment, so many will be closely watching today's Retail Sales report.
As discussed below there has been further improvement in many of the technical studies so a short-term pullback should be a buying opportunity in some of the strong sectors, as well as the stocks in those sectors.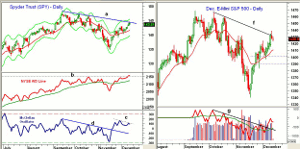 Click to Enlarge
Chart Analysis. The daily chart of the Spyder Trust (SPY) shows that the downtrend from the September-October highs was slightly exceeded yesterday.
!--start-->
---