US Dollar at Critical Juncture
10/15/2010 12:01 am EST
Focus: FOREX
After what started off as a slow and somewhat boring mid-week of trading, the dollar got absolutely obliterated in overnight trading. As we can see below, the index traded in a narrow, 25-point range through most of Europe and North America, but totally collapsed in the opening hours of trading in Asia. Many analysts are citing the unexpected hike by the Monetary Authority of Singapore as an early catalyst, which in turn propelled the aussie to fresh post-float highs. Asian equities also came roaring out of the gate following a strong showing by European and US stocks on the heels of solid earnings from the likes of Intel (INTC) and JPMorgan Chase (JPM). As a result, risk appetite surged, lifting stocks across the region.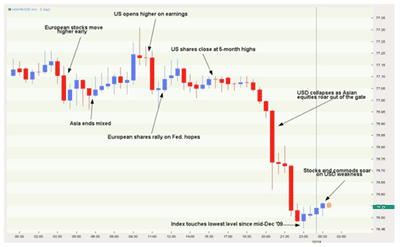 Click to Enlarge
While we have suggested in recent days that further dollar losses were a realistic possibility, we view this overnight action with some skepticism. Our biggest concern is that traders have the Fed "over a barrel" regarding further easing. The Fed has massaged expectations and pushed traders toward more risk, which has resulted in US bourses rallying 12% over the last seven weeks on promises that it will provide more stimulus for the economy. However, the Fed looks like it might want to renege on its promise, as characterized by comments overnight by the Fed's Lacker, who said that with the economy as it stands, more easing is not merited. Lacker joins a growing contingent of more hawkish Fed members. His colleagues, Bullard and Yellen, not to mention Hoenig, continue to demonstrate that not all members have decided that further stimulus is actually warranted at this time. However, due to Wall Street's expectations, the Fed will likely act out of obligation as much as anything else. We now suggest that QE moves will be incremental in nature, which could result in a massive capitulation of the dollar if the Fed announces a program smaller than the $500 billion that is widely expected. As such, we refuse to overlook the possibility of a material bottom being formed in the index ahead of a correction.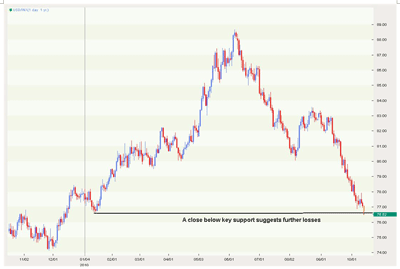 Click to Enlarge
Additionally, while the index has posted a fresh ten-month low and moved below a key support level, only a close below this level negates it as support. Therefore, we will be looking for a close above the support to keep hopes of a correction alive. However, a close below this level, at 76.60, will all but confirm that the index is set to test the 2009 lows set late in November just above the 74.00 mark. At such levels, we continue to recommend that traders remain sidelined until a clearer trend presents itself, lest one gets caught short amid a dollar correction, which still could be on the horizon.
By Jonathan Granby of DailyFX.com