Stay Alert for Sharp AUD/USD Selloff
06/28/2011 6:00 am EST
Focus: FOREX
Bearish sentiment surrounding the Australian dollar (AUD) threatens to send the aussie lower against currency counterparts, and a sizable bearish breakout may soon unfold in the AUD/USD pair.
The bearish sentiment underlying the Australian dollar should gather pace in the week ahead as the shift away from risk-taking behavior continues to dampen demands for the higher-yielding currency.
As the economic docket for the island nation remains fairly light in the week ahead, trader sentiment is likely to dictate price action for the AUD/USD, while the balanced tone held by the Reserve Bank of Australia (RBA) could exacerbate the near-term reversal in the pair as interest rate expectations falter.
Although the RBA sees a heightening risk for inflation, the recent comments suggest that the central bank will keep the benchmark interest rate on hold over the coming months while risks to the global economy become "A little more prominent."
As the region copes with an uneven recovery, the board may see scope to retain its "mildly restrictive" policy stance throughout the remainder of the year, and the central bank may continue to talk down speculation about a rate hike in the second half of 2011 as the economic outlook remains clouded with uncertainties.
According to Credit Suisse overnight index swaps, market participants now see borrowing costs holding steady over the next 12 months, and currency traders may turn increasingly bearish against the high-yielding currency as they scale back their appetite for risk.
As the AUD/USD continues to trade within a descending triangle, we should see a bearish breakout in the pair, and there could be a sharp selloff in the following week as price action approaches the apex. In turn, the AUD/USD could threaten the rally from earlier this year, which could expose former resistance around 1.0200.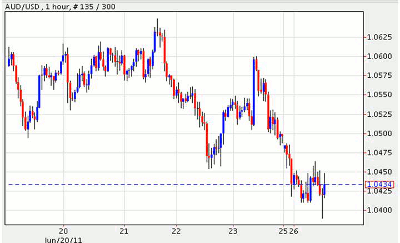 Click to Enlarge
By David Song of DailyFX.com