How to Trade the Euro Relief Rally
02/15/2012 6:00 am EST
Focus: FOREX
While the Greek debt deal should spur a relief rally in the euro, bad economic news from Japan promises to weaken the yen, allowing currency traders to capitalize by buying the EUR/JPY pair.
The favorable news out of Greece this week has ignited a move back to the risk trade.
The euro briefly traded above 1.3280 as Greece's Prime Minister Papademos won approval from Parliament for austerity measures which will allow the country to secure a second package of aid. Implementation still needs to be done, but these days any hint of a resolution is good for the markets.
News Recap
The vote in Parliament was decisive with 199 in favor and 27 against despite continued rioting in the streets of Athens and the fact that they must find additional cuts of 300 million euro. Non-commercial euro short positions, which increased to record levels just a few weeks back (according to the Commitment of Traders (COT) report), have been scaled back, and this past weekend's agreement could spur additional short covering.
Asia Watch
In Japan, the overnight GDP data came in worse than expected and showed the Japanese economy contracted by -.6% quarter over quarter (QoQ). Market participants were expecting a drop of -.3% QoQ. Weak exports were the main reason for the weakness and the recent strength of the yen.
Weak external demand in Europe also weighed heavily on the number. Energy imports (gasoline and oil) were also higher, weighing on the trade component of GDP.
Chart Pattern in Play
Technically, the yen is trading close to its 200-day moving average at 78.06, and a breach of this level could signal a move higher in the weeks ahead. The yen has been strong of late, as real yields in the country remain at stubbornly high levels despite the fact that nominal rates are close to zero.
How to Trade it
Given the favorable move back to risk over the weekend, a move higher in euro/yen (EUR/JPY) could be imminent. Note the chart below, which portrays the Fisher-Gartman (FG) risk index in white, EUR/JPY in red, and Commitment of Traders positions in green.
All indicators seem to suggest a move higher in EUR/JPY, and there should be a second bailout package in place on Wednesday and PSI deal by the end of the week.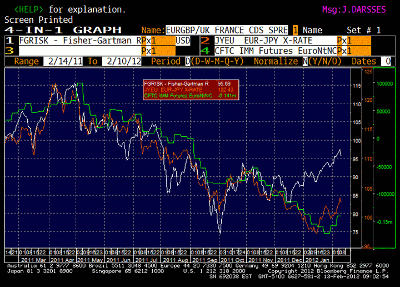 Click to Enlarge
By James Brown
Get more insight like this from SFO Magazine.