Why You Should Trade Forex Crosses
Focus: FOREX
Many forex traders focus on trading the major currency pairs (pairs not involving the US dollar), but Jeremy Wagner of DailyFX Education shares the benefits of trading cross pairs.
Most forex research and forex trading volume circles around the US dollar. Limiting your research and forex analysis to just the USD pairs also limits your realm of possible trading opportunities. Here are two benefits one can realize while considering the forex cross pairs.
Two Advantages of Trading Cross Pairs:
Stronger trends can develop in cross pairs versus majors


Insulate your trades from US news releases


Stronger Trends
Which currency pair has moved the most since January 1, 2010? Answer: EUR-NZD, which has moved down about 4,100 pips.
Benefit of Trading Crosses – Strong Trends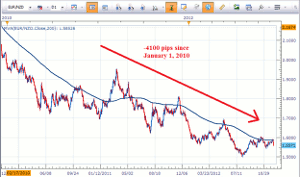 (Created using FXCM's Marketscope 2.0 charts)
Click to Enlarge
In fact, the next strongest trends since January 2010 are all cross pairs (EUR-AUD, GBP-NZD, and EUR-JPY). You would think by listening to the news media about the weak US dollar that it would be in one of the strongest down trends, but clearly it is not.
Strong trends such as the above are generally created by diverging interest rate expectations.
!--start-->
---