Build Your Trading Plan Around the Strongest Currencies
02/27/2015 9:00 am EST
Focus: FOREX
There is a very simple formula for identifying the strongest and weakest currencies, writes Tyler Yell of DailyFX.com. Once you've done that you can follow a checklist for finding favorable entries in the direction of the predominant trend.
Trading in favor of the strongest currency and selling the weakest is the bread-and-butter trade for trend followers and swing traders alike. The only difference is that trend traders hold the trades for much longer and swing traders often have defined risk:reward entries. Trend followers purposely trade these currency mismatches because they tend to trend longer than many people expect.
To help you visualize what a strong-weak match-up looks on a chart, here is a trend at the hands of a notable strong currency unevenly trading against the weakest currency.
CAD/JPY Houses the Strongest and Weakest Currencies to Trend Traders' Delight


(Created using FXCM's Marketscope 2.0 charts)
Click to Enlarge
To see for yourself what the current strongest and weakest currency pairs are, you need to perform a strong and weak analysis. Once you've done that, you can add fractals and the CCI to your chart to find entries or look for breakouts.
Strong-Weak Analysis Breakdown
Place a large moving average on a major currency pair, preferably on an hourly chart or larger. We recommend you do this on Excel or a piece of paper with the major individual currencies listed out as opposed to the pairs. This will make it easier for you to take the strongest and look for entries against the weakest.
If you're using a four-hour chart, then you will place the large moving average and give each currency credit to the strong or weak category either with an up or down arrow or strong/weak checkmarks. So if you're looking at the EUR/JPY, which is above the 200-day moving average, then you would tally a strong mark for the EUR and a weak mark for the JPY.
As it currently stands in January 2013, the JPY is far and away the weakest across the board thanks to Shinzo Abe promising to weaken the JPY at all costs to bolster the Japanese economy. The two strongest currencies using the 200-period simple moving average on the four-hour chart is currently the Canadian dollar and New Zealand dollar respectively. Identifying the strongest and weakest will also prevent you from trading two strong or two weak currencies against each other's unreliable patterns.
NZD/CAD Do Not Provide Clear Chart Patterns as the Two Strongest Currencies

(Created using FXCM's Marketscope 2.0 charts)
Click to Enlarge
Now that we've clearly identified the strongest and weakest currency pairs, you now want to pull up the opposing charts to look for entries. Naturally, we always encourage patience in finding the right entry. With your patience honed we can look to entry techniques to buy the strongest currency pair while selling against the weakest.
NEXT PAGE: Two Entry Methods |pagebreak|
Strong vs. Weak Entry Methods #1 - Breakouts with Price Channels
Donchian Channels are Utilized for Entries & Stops Based on Price Alone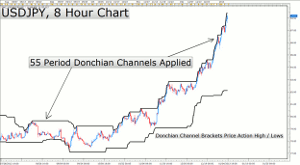 (Created using FXCM's Marketscope 2.0 charts)
Click to Enlarge
The first entry method we'll discuss is the breakout entry method. Breakout entries are a technical strategy to help you to catch a developing trend and avoid some losing trades. The most common tool used to easily spot breakout entries are Donchian price channels.
When using price channels, traders will often look to 20- or 55-period highs and buy price breaking through an old high or breaking below an old low as renewed interest carries the pair in the predominant trend. The argument for entering on breakouts as opposed to "buying low" is that price is the only credible indicator, and if price is entering new territory, then the trader should follow.
Strong vs. Weak Entry Methods #2 - Combining the CCI with Fractal Indicator
Combining CCI's with Fractals Help Identify Respected Market Swings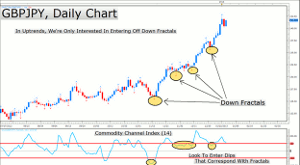 (Created using FXCM's Marketscope 2.0 charts)
Click to Enlarge
If you're not a fan of buying new highs and would rather buy pullbacks in an uptrend, then I'd recommend you become familiar with fractals and the Commodity Channel Index (CCI) to time entries.
Fractals help pinpoint changes in market behavior. Many traders will base trading decisions like stops and entries on hard turns in market behavior and fractals point that out to you. Adding fractals to your chart will only show you up or down arrows when a recent top or bottom has been made within the last five price bars.
To give more depth and meaning to fractals, we can add the CCI. The CCI is an unbound oscillator that helps measure variation from the average price over a specified period.
When you're trading the strongest currency against the weakest and find a rare spot on the chart where the weakest currency has temporarily strengthened against the strongest currency beyond the average, then you can use that to time entries in the trend. In an uptrend, you're looking for lows on the CCI ideally crossing below and back above -100.
As you can see above, depending on the strength of the trend, you may not see a CCI reading below -100 (oversold) and that is when it's best to find a bottoming of the indicator paired with a fractal on price before trading back toward the direction of the trend.
Regardless of your method for entering the trade, finding the strongest currency and buying it against the weakest currency will do a lot of the work for you. Regardless of the mismatch and the entry, we recommend you set your trade size appropriate to your account size and risk goals.
By Tyler Yell, Trading Instructor, DailyFX.com