Is the Euro Sending Bearish Signals?
01/09/2013 9:00 am EST
Focus: FOREX
While recent focus was on the yen after newly elected Prime Minister Shinzo Abe vowed to implement Japan's version of quantitative easing, the euro has been quietly racking up gains. But that might be over soon, says Daniel Hwang of Gallant Capital Markets.
Since late Q2 2011, net non-commercial euro positions remained short, but turned positive for the first time directly as 2013 went underway. Much of this is due to lowered EZ risk premia on the back of the ECB's announced OMT plan.
However, the recent Fed minutes hint at an earlier end to the US central bank's ever so loose monetary policy, paving the way for wider ECB: FED yield spreads in favor of USD.
Keep in mind, the political underpinnings of yen weakness led the way higher for EUR/JPY and thus provided the euro some additional strength. With speculative yens shorts remaining at significant levels, paring back of EUR/JPY positions may very well have a negative impact on the euro.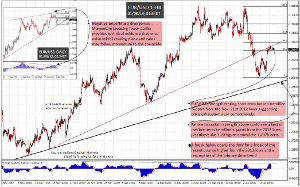 Click to Enlarge
Positioning data, favorable US yield spread potential, and technical cues suggest EUR/USD may be running out of steam near current levels at 1.3125, at moment of writing. Initiating shorts at 1.3125 for half a position and another half at recent highs around 1.3260 may provide an average rate around 1.3187.
Stops placed above the March/April 2012 highs (1.3382) at around 1.3407 for a potential total risk of about -220 pips and limits targeting a move to the key daily pivot around 1.2680 for a total potential reward of +580 pips may provide risk: reward value near 2.5 to 1 for EUR/USD shorts.
By Daniel Hwang, Chief Currency Strategist, Gallant Capital Markets