Suggested Stops for Scalpers
05/08/2013 9:00 am EST
Focus: FOREX
Limiting risk should be the first priority of any forex scalper, says Walker England of DailyFX.com, and here he reviews two methods of placing stops for short-term traders.
Price action traders and scalpers who employ technical strategies on shorter time frames are always aware of market risk. That means having a game plan in place to set stop orders prior to entering into the market. That way in the event that the market turns against an open position, trades will exit their positions as quickly as possible while minimizing losses. Today we will take a look at two ways to set stops for scalpers.
The first methodology for containing risk will strictly look at price action. Traders scalping the market will normally use a series of swing highs and lows to determine the direction of the trend. Since these levels also act as short-term levels of support and resistance, they are very useful in deciding stop placement. In our example below, we can see the EUR/USD making a series of higher highs and higher lows as the pair advances in an uptrend. If a trader wants to buy into an uptrend, and is unsure where to set a stop, look no further than the previous swing low. The thinking behind this method is that if a pair is breaking lower lows, we no longer want to be holding open buy positions.
EUR/USD and Swing Lows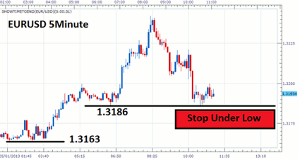 (Created using FXCM's Marketscope 2.0 charts)
Click to Enlarge
But price action trading is certainly not the only way to minimize risk in short-term positions. Let's look at our second technique for setting stop losses. Some traders prefer to use indicators, which are clearly displayed on the graph as opposed to determining their own pricing levels for limiting risk. Below we can see our five minute EUR/USD chart, but this time we have included a 200-period MVA (Simple Moving Average).The 200-MVA is easily one of the most used indicators in technical analysis. It is calculated by adding up the last two hundred period closing prices for the specified currency, then dividing that total by 200 to determine an average price.
The key to trading short-term graphs using the 200-MVA is to ensure that price remains over the 200 MVA in an uptrend, or below the average in a downtrend. In our EUR/USD example, price is currently above the average in tune with our uptrend. If price falls below this value, it means momentum is turning lower. Placing stops under the average will then allow traders to close any long positions that may be open, to avoid any further decline in price.
EUR/USD and 200 MVA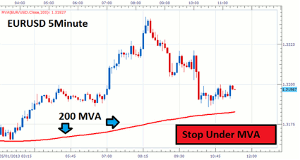 (Created using FXCM's Marketscope 2.0 charts)
Click to Enlarge
The examples above are just two ways out of many that traders can use to decide stop placements when scalping forex. It is important to understand that neither method of limiting risk is "better" than the other. The key is finding a method of exiting the market that is easily applied and repeatable so traders can stay consistent in their approach. That way when trades inevitably go against us, we don't panic and can stick with our original trading plan.
By Walker England, Trading Instructor, DailyFX.com