Create a Trading Edge with Intermarket Analysis
07/26/2013 9:00 am EST
Focus: CURRENCIES
The relationships between different financial markets are almost as old as the markets themselves, and Brian Kahn of DailyForexTradingEdge believes that adding inter-market analysis to your repertoire can give you an edge in the forex market.
Durable goods - spending on big ticket items were up more than expected. Weekly claims are still showing a below 350k average, which is indicative of a headline payrolls number closer to +200k when released next Friday. Overall, the economic data continues to be positive and supportive for equities at these levels. The bigger story is earnings. Are Q2 earnings and Q3 guidance starting to play an unsupportive role for equities at these levels?
The technical question becomes:
SPX at 1700

SPX making one its largest percentage moves in a certain period of time since the mid 90's.

Federal Reserve transparency - if economic data continues to be positive, does that signal the end of a supportive Fed?


So with that being said, 1700 provided a nice "psychological" resistance as SPX opened up 19 points off that level. The next technical question becomes, is the dip another buy and if so, where does the dip become a buy? I still think the equity markets have a fairly good chance of going higher if they can get through the summer period within a few percentage points of the recent high just below 1700. This is for two reasons:
As long as Fed intervention remains a "possibility"

A large move up followed by a very, very small retracement usually leads to another move higher

Obviously, interest rates geopolitical factors must be watched closely.
So what about those intermarket relationships? I have been talking about the USD and how it has lost strength and the fact that it was at key technical levels. Again, I will show the steep drop in the GBP and the ensuing rally after Fed speakers said the Fed is still in play. And furthermore when Bernanke gave his "Greenspanish": "we could, but based on data, we may not" talk.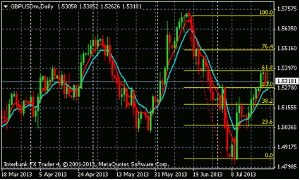 Past performance is not indicative of future results
Click to Enlarge
The 61.8 level is providing resistance as SPX tops out at 1700. With the SPX backing off a bit, will that cause the GBP to stop rallying—are we possibly seeing the old "equity markets up, dollar down, equity markets down, dollar up" relationship back in play?
It is important to remember though that if equity markets drop, most of the time, money flows from the "riskier" equity markets to the "safer" bond markets. Bond prices up, interest rates down. But what is really happening is there is a worldwide shift, so all global markets do the same "twist" from one market to the other and the larger, macro relationship is regardless of interest rates going down overall, the flight from equities to bonds worldwide is a reason to go into the USD over other currencies. Got it? Good!
By Brian Kahn, Contributor, DailyForexTradingEdge