All Quiet on the Currency Front
02/14/2014 9:00 am EST
Focus: FOREX
In a quiet economic calendar week, Mike Kulej of FXMadness.com shares his current trades.
As expected, the Bank of England Inflation Report created a stir on the markets, or more to the point, in the British pound. The central bank changed its forward guidance, expecting inflation to slow to 1.7% in the 2015. Clearly, in spite of massive bond purchasing program, inflation is not picking up, forcing the BoE to make some changes in its policy. Until now, the existing QE steps were to remain in place until the unemployment falls to 7%. Now the central bank is indicating that this threshold will be lowered, depending on other developments, such as economic growth.
Realistically, after Wednesday's revelation, market participants do not expect to see an interest hike any time soon. As we recall, the Fed also linked its QE activities to the unemployment rate. While this indicator is improving in America, the central bank could follow the lead of the BoE and also lower this particular threshold, or perhaps simply ignore it. We should find out during the next policy meeting.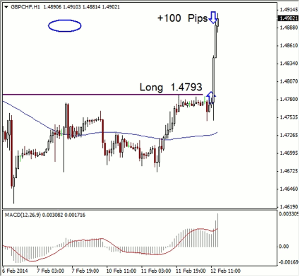 Click to Enlarge
Earlier in the week, I covered a possible trade in the GBP/CHF and Wednesday, in tandem with other pound pairs, it strongly rallied. On the 1H chart, it had formed a well-defined resistance at 1.4785, indicating likely sharp move if this obstacle is broken. Once that happened, the GBP/CHF filled my order at 1.4793 and advanced rapidly, quickly reaching my objective of 100 pips.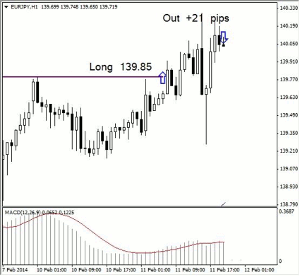 Click to Enlarge
The trade from my last post was less successful. I was looking for a short-term upside breakout in the EUR/JPY. The plan was to buy it at 139.85, targeting 50 pips. Initially, the price moved nicely along, but lost steam few pips short of the objective. When the EUR/JPY failed to reach it on the second attempt, I closed the trade for a small profit of 21 pips.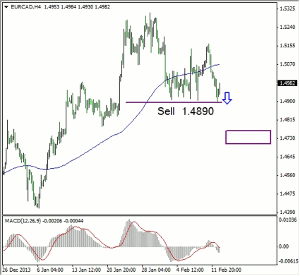 Click to Enlarge
The chart of the EUR/CAD looks somewhat to similar to the trade setup in the GBP/CHF, only in reverse. Here the price has been testing the support of 1.4900 for several days and is currently rebounding again. When (if) it gives way, I want to be short this pair, with a sell order at 1.4890. I think this trade can bring 150 pips if one is willing to commit the time. After all, this is a 4H chart, so it might take a while before this situation fully develops, perhaps as long as one-two weeks.
By Mike Kulej of FXMadness.com