Why .7980 is the Most Important Number in Europe Right Now
08/07/2014 9:00 am EST
Focus: CURRENCIES
The staff at Forex.com explores the dilemma known as "Morton's Fork" and the subsequent important number for European currency traders to be mindful of moving forward.
Back in the late 15th century, a man by the name of John Morton was appointed the Archbishop of Canterbury and was tasked with collecting taxes from the British nobility. In order to collect as much in taxes as possible, Morton held to a theory that all noblemen should be taxed heavily, arguing that, "Either the nobles of this country appear wealthy, in which case they can be taxed for good; or they appear poor, in which case they are living frugally and must have immense savings, which can be taxed for good." In other words, the noblemen were forced to decide between two bad options, both of which led to them losing their money. This dilemma came to be known as "Morton's Fork."
Bulls looking to invest in a European currency undoubtedly feel that the market has offered them a bit of a Morton's Fork over the past few weeks. Both the euro and the British pound have trended consistently lower against their major rivals for over a month; in fact, the only major currency that the euro hasn't obviously fallen against over the past month is the pound!
Wednesday's economic data out of Europe has done little to stem the bleeding of the major European currencies. German Factory Orders came out far worse than expected at -3.2% versus the 0.5% growth that traders and economists were expecting. Meanwhile, across the English Channel, the pound traders were caught off guard by a surprisingly weak Manufacturing and Industrial Production figures, which both showed near-zero growth on a month-over-month basis. With both economies clearly struggling, the euro and pound could remain under pressure in the short-term.
Technical View: EUR/GBP
Moving forward, we'll be keeping a close eye on EUR/GBP to evaluate which European currency is in the hottest water. Last week, EUR/GBP broke above its 4-month bearish channel, but rates have stalled out this week against critical resistance at .7980. The .7980 level represents a key area of previous support (both from earlier this year and back in November 2012), as well as the 50-day moving average. As long as rates stay below that level, traders may view the pound as the slightly more attractive European currency.
That said, there are some signs that the pair may have formed a longer-term bottom near .7900. For one, the pair showed an extremely rare quadruple bullish divergence with its RSI indicator before breaking above the bearish channel. This divergence shows declining selling pressure on each of the last four lower lows and is often a sign of a sustainable low in the market. With the MAC-D also trending higher and approaching its signal line, a break above the .7980 later this month would go a long way to tilt the odds in favor of EUR/GBP bulls.
The proverbial Morton's Fork for European currency traders may not go away any time soon, but by monitoring the key .7980 level in EUR/GBP, readers can have confidence in making the least-bad bad decision.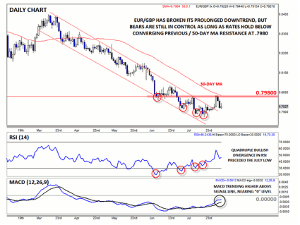 Click to Enlarge
By the Staff at Forex.com