Is Volatility About to Come Back to the FX Market?
08/27/2014 12:00 am EST
Focus: FOREX
The staff at Forex.com reflects on the current record low level of volatility in the forex market, the circumstances that could change this, and how that will impact currencies.
FX volatility has fallen to record lows in recent months, which is one reason why trading conditions have been particularly boring, but could this be about to change? Listening to some of the speeches from Jackson Hole at the weekend, annual conference of central bankers, monetary policy could be about to move down divergent paths in the coming months and there could be implications for the FX market.
On the one side, you have the US and the UK who are moving towards normalizing monetary policy and could embrace rate hikes early next year. On the other hand, you have the Euro zone where the ECB is likely to embark on QE in the next few months. Since central bankers have been blamed for suppressing FX volatility in recent years—as some countries embark on the normalization of monetary policy—it could be high time for FX volatility to come back with a bang.
Volatility is something that no one in the market can control, which means that when it returns (and it always returns) it is likely that it will turn up unannounced. There are no reliable lead indicators to determine when volatility will bounce back, however, since we believe that divergent central bank stances could be a core driver of volatility going forward, it makes sense to do some yield analysis.
The chart below shows the spread between US and German 2-year bond yields, which is sensitive to changes in monetary policy and 3-month at-the-money option volatility for EUR/USD. As you can see, the spread has widened to over 50 basis points, the last time the yield spread was this wide was in 2007. Back then, the yield spread was declining as the US started to cut interest rates, then the financial crisis happened and FX volatility surged.
While history doesn't always repeat itself, there are a couple of things to point out:
The yield spread has never been this wide at the same time as volatility has been this low, which suggests that if the spread continues to widen then volatility could rise.
EUR/USD volatility has started to pick up in recent days, and may continue to pick up as we wait for next week's ECB meeting to see if the Bank is going to embark on QE. If it does then this could be the trigger that unleashes a wave of volatility in the coming months and could weigh heavily on EUR/USD.
Why do yields impact currencies?
This goes back to your FX trading 101, but in a nutshell, a yield is essentially what you earn from holding a currency. Typically—but not always—higher yields are more attractive to currency traders and vice versa. Since the yields of major currencies have been suppressed for so long—with everyone from the ECB to the Fed pledging to keep interest rates low for the long-term—it has been difficult to tell currencies apart, hence the fall in volatility. But as economies diverge and central banks start muttering about normalizing monetary policy at different rates, the relative value of currencies is coming back to the fore.
Currency pairs that could be impacted:
If volatility does rise then we think EUR/USD and USD/JPY are the ones to watch. EUR/USD could sink below 1.30 if the ECB embarks on QE, and the spread between US and German yields continue to widen. With the Bank of Japan also sticking with QE, we expect further strength in USD/JPY towards 105.00 and beyond, particularly if the US economic data holds up, pushing the Fed towards monetary policy normalization.
Conclusion:
The short-term yield spread between the US and Germany is at its widest level since 2007.
This could boost FX volatility after it sunk to record lows.
As global monetary policy paths diverge, FX volatility could pick up.
Next week's September ECB meeting could determine the extent of divergence between the US and Euro zone's monetary policy paths, and could trigger a bout of volatility in the FX market.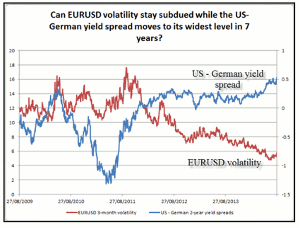 Click to Enlarge
By the Staff at Forex.com