The Easy MAC
01/16/2015 9:00 am EST
Focus: STRATEGIES
Walker England, of DailyFX.com, discusses the 'Easy MAC' approach to charts, a retracement strategy that uses four separate EMAs to aid traders new to forex with trend identification, timing a market entry, and managing exits and risk.
Traders should be prepared to trade a variety of charts and market conditions by having multiple strategies at their disposal.
• Strong Trends Have Retracements, Ideal for Re-entering the Market
• Market Direction and Entries can be Determined with EMAs
• Use MACD and Trailing Stops to Manage Risk

Find the Trend and Retracements
The Easy MAC approach is a retracement strategy; it is therefore important to be familiar with the concepts, trend identification, and price retracement. To help identify market direction and market pullbacks, this strategy uses four separate EMAs (200, 30, 25, 3). Each of these EMAs will have a specific purpose to the Easy MAC strategy when added to a 2Hr chart. Note: it is recommended to color code the averages so that you can easily remember their values.
Below we can see an example of all of our averages at work. First concept: trend identification. The trend is considered to be down because price is below the 200 EMA. Keep this in mind, because if prices were, instead, above the 200 EMA, the pair would be considered in an uptrend. Second concept: price retracement. To locate this movement, a trader will watch the 3 and 30 period EMAs. If the 3 EMA moves above the 30, as highlighted in the graph below, it will be considered a retracement or a pullback against the trend.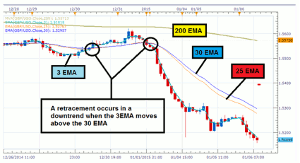 Click to Enlarge
Execution
So, now that you have identified the trend, the next question is when to time a market entry. First off, we will again be using our EMAs, so leave them on your graph. The idea here is that we want to enter into the market after a retracement has concluded. Also remember price is in a downtrend, so we will only look to place sell orders when the trend resumes.
Execution occurs when the 3 period EMA closes back under the 30 period EMA. This is normally done with a market order, and for the Easy Mac strategy, a two lot order system is used. Once market entries are placed, the final step of the strategy is to determine where and how to exit the market.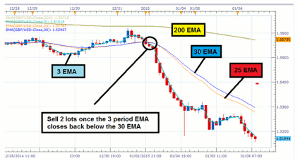 Click to Enlarge
Managing Exits and Risk
As the final step, traders must know where to exit the market and how to manage risk. When it comes to the Easy MAC strategy, this process utilizes two indicators. First, MACD needs to be added onto your chart. The first lot of this strategy should be exited on the next MACD crossover. This occurs when MACD moves back above the signal line in a downtrend.
The second lot of this strategy will utilize a trailing stop. This stop should be attached to the 25 EMA. This order will continue to trail as long as the pair continues to move in our favor. As soon as price reaches the EMA, the final order should be closed immediately.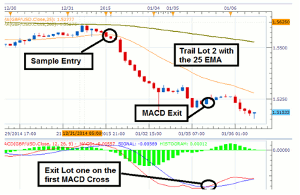 Click to Enlarge
By Walker England, Trading Instructor, DailyFX.com