Dollar Trading Takes Prominence
05/27/2015 9:00 am EST
Focus: CURRENCIES
Dean Popplewell, of MarketPulse, outlines how the market's still watchful of Greece, how worries continue to weigh on the euro, how commodity prices have fallen on the outlook for the USD, and how a dominant dollar strategy will weigh heavily on commodity prices and their affiliated currency pairs.
After a three-day weekend, market participants jumped straight back into the fray to find the US dollar rising on gains fueled by last Friday's US consumer price index surprise and comments from Federal Reserve Chair Janet Yellen that a rate hike remains on the cards for this year.
In Europe, dealers return to the grindstone where the Greek debt dance has European capital markets starting this shortened trading week on the back foot. The single unit trades at new one-month lows outright (€1.0890), while German and UK debt rallies on Greek risk aversion trading and on the surprise weekend Spanish vote results. Spanish yields have backed up after a negative reaction to the region polls in Spain where a strong showing for the opposition anti-austerity parties is a clear threat to the incumbent government and to the EuroZone periphery's stability.
Market worries that Greece will be incapable of fulfilling its debt obligations to the International Monetary Fund (IMF) next week will only continue to weigh on the EUR in the short-term, while US bond yields will favor the dollar against a host of Group of 10 (G10) currencies. JPY trades at an eight-year low (¥122.79). It seems that the recent stability in the pair over the past few months had greatly reduced speculative yen shorts…the market wants to play catch-up to the potential upside momentum due to US and Japanese interest rate differentials.
Investors are looking ahead to Tuesday morning's US data menu (durable goods and new home sales) for key touch point guidance. Both reports are expected to show improvement over the previous months readings, which would only add value to the dominant current trading strategies. The market is most interested in the US housing data points. Was last week's surge in starts and permits a coincidence or not for the housing sector?

Click to Enlarge
Euro's Freefall Toward Parity
The two-prong attack on the EUR, Greek saber rattling, and stronger US domestic data has the unit -0.7% lower in overnight trading and threatening to build up further momentum to test its multiyear lows sub-€1.05. The EUR is down close to -10% this year and -20% over the past 12 months.
Greek two-year yields have climbed a further +1.3 basis points to +23.9% amid growing fears over a default. Greek officials continue to take the hard stance by raising doubts over whether they will have enough money to fulfill its debt obligations to the IMF next month (€1.6 billion). What's making the situation worse is the internal fighting within the Greek government over creditors' conditions. Some officials are willing to accept certain terms while others are not.
In Spain, bond prices reveal a similar scenario. Bonos (Spanish bonds) have come under further pressure from the weekend's election results, which showed the ruling Popular Party lose big in municipal elections to the anti-austerity Podemos Party (Spanish 10-year yields climbed +8 basis points to +1.85%). It's the reason why European officials and policymakers will only ever take a hardline stance approach to Greece; they do not want to legitimize Athens' claims or set a precedent that cannot be unwound that favors anti-austerity party claims.
Both UK Gilts and German Bunds—which are considered to be safe-haven assets to a degree—are benefitting from the periphery debt market underperformance. Bunds are down -6 basis points to +0.55% while 10-year Gilts are trading at +1.86%. It's no surprise to see that US Treasurys are being dragged along for the ride. US 10s currently yield +2.18%, much tighter than this month's low-yield print of +2.32%, amid the global sovereign yield saga.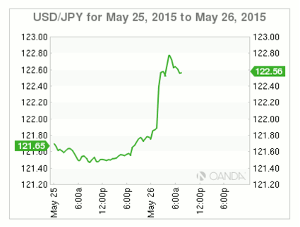 Click to Enlarge
Commodities Fall on Dollar's Direction
The USD remains the best of a bad lot for most traders. Mixed domestic data, neutral comments from Yellen, and risk aversion strategies certainly outweigh the current European-Greek saga, while a weaker China and Japan require lower currency values. Nevertheless, a dominant dollar strategy will weigh heavily on commodity prices and their affiliated currency pairs (CAD, AUD, NZD).
Again, Tuesday morning, crude oil trades under pressure (Brent -0.8% to $65.02 and West Texas -0.7% to +$59.29), while the yellow metal seeks to discover what lies below the psychological $1.12 handle (-1% to $1,194.5). The recent upward strength for oil was supported mostly by cuts in production (supply gluts remain an ongoing concern) and the mighty dollar shakeout over the past six weeks rather than on sustainable economic growth. With the USD finding favor and a growing concern for both crude and gold fundamentals, being long this sector may require some nimble trading in the short-term.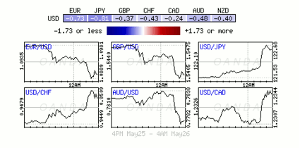 Click to Enlarge
By Dean Popplewell, Director of Currency Analysis and Research, MarketPulse