5 Wave Patterns Developing on US Dollar Charts
09/10/2015 9:00 am EST
Focus: FOREX
The staff at Admiral Markets uses technical analysis to examine the wave patterns developing on US dollar charts and shares their directional outlook for three currency pairs moving forward.
Currency Pair EUR/USD
The EUR/USD remains in triangle marked by support (green) and resistance (red) after completing five bearish waves down (brown). There is now a decent chance for a wave 2 (green) pullback or alternatively a wave B retracement.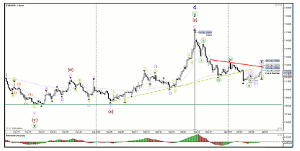 Click to Enlarge
The EUR/USD completed an ABC correction (purple) Tuesday but there is a decent chance that the corrective zone will see an expansion via a WXY (brown). This will allow price to retrace deeper within wave 2 (green). A break below the 161.8% target of wave C (purple) would invalidate the WXY (brown) structure.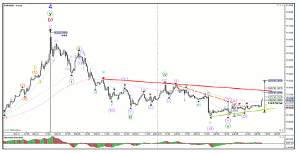 Click to Enlarge
Currency Pair GBP/USD
The GBP/USD bullish price action pushed well above the bearish trend channel. Due to the impulsive nature of the price movement, the swing has been labeled as a wave 3 (pink).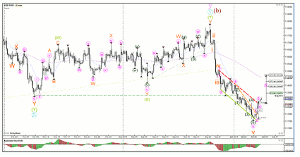 Click to Enlarge
The GBP/USD extended the 5 wave pattern on a lower time frame and could now be retracing as part of a wave 4 (pink). A break below the 50% Fibonacci would most likely lead to a change of the wave count.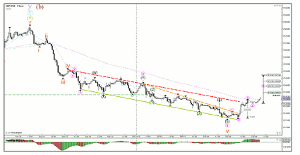 Click to Enlarge
Currency Pair USD/JPY
The USD/JPY broke above the inner resistance trend line (dotted orange), which most likely indicates the start of a bullish breakout. The potential for upside could be limited as a larger bearish ABC (brown) is in play with Fibonacci retracement levels and an outer resistance trend line (red) capping the rebound.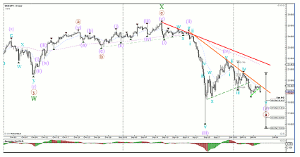 Click to Enlarge
On a lower time frame, the bullish breakout has five legs which should complete either a wave 1 or wave A (purple). At the moment, I am expecting a retracement for wave B (purple) which should see a bounce for a wave C (purple).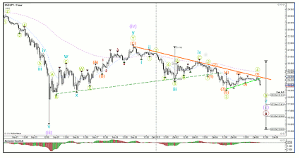 Click to Enlarge
By the staff of Admiral Markets