Forex Volatility Prices Spike—We Like These Trading Strategies
10/27/2015 9:00 am EST
Focus: CURRENCIES
Key central bank meetings set the stage for big currency volatility this week, so David Rodriguez, of DailyFX.com, explains why he sees the potential for a trend shift and offers a table for full detail on market conditions and his preferred trading strategies.
• Forex volatility rise notably ahead of US Federal Reserve interest rate decision
• We see the potential for a trend shift and will watch the Momentum2 strategy in particular
• The strong risk of major volatility in the JPY likewise favors the Breakout2 trading system


It's shaping up to be a big week for FX markets as key central bank meetings set the stage for big currency volatility. Here's what we're watching.
All eyes turn to the highly-anticipated US Federal Open Market Committee interest rate decision on Thursday as short-term FX volatility prices/expectations jump to important highs. Traders widely expect that the US central bank will leave interest rates unchanged. Yet a key question is whether Fed officials will shift rhetoric and hint towards raising interest rates at their last meeting of 2015 in December.
The US dollar trades at multi-month highs versus the euro and any major disappointments from the FOMC could change that in a hurry. It is with this in mind that we cautiously look to trade the Momentum2 trading system in the EUR/USD pair in the week ahead. The system looks to trade major shifts in crowd sentiment and is often the first to switch direction if we see a notable change in direction.
Our DailyFX volatility indices show broader 1-week FX volatility prices at their highest in over a month and the risk of big moves is especially elevated in the Japanese yen. A strong correlation between the USD/JPY and interest rate expectations suggests it would likely see strong reactions to any surprises out of the Fed meeting.
Short-Term Volatility Prices Jump Ahead of Key Fed Decision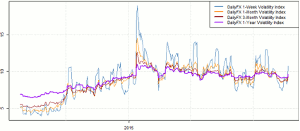 Data source: Bloomberg, DailyFX Calculations
Click to Enlarge
We'll keep an eye on our volatility-friendly Breakout2 system on JPY pairs; as it stands we believe it is in a position to do well in the EUR/JPY and potentially other risk-sensitive yen exchange rates.
See the table below for full detail on market conditions and preferred trading strategies.
DailyFX Individual Currency Pair Conditions and Trading Strategy Bias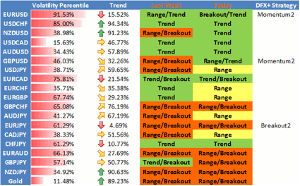 Click to Enlarge
By David Rodriguez, Quantitative Strategist, DailyFX.com