Low-Risk Trading in Financially Strong Stocks (Part 2)
10/06/2009 12:01 am EST
Focus: STRATEGIES
How to Identify Strong Companies
In Part 1 of this article series, we took a look at the advantages of investing in financially strong companies that will deliver a 20% per year return on their stock, with minimum risk. Now we will show you how to identify these companies.
I have taught finance to people from around the world for more than 20 years with the American Management Association. A financially strong company is one that has exceptional cash from operations. Now you know the secret! At least 90% of all investors are clueless about this time-proven precept.
The Wall Street Journal and other financial publications report a company's earnings per share (EPS) or quarterly and yearly earnings. Have you ever read an article on a company's outstanding cash from operations? I haven't.
Net income, earnings, or profit (they all mean the same thing), represent only a portion of the money a company earns. Cash from operations is calculated by adding to earnings the depreciation a company declares, usually as a way to pay lower taxes, and changes in working capital (the money required to produce a product or service).
Cash from operations is the total earnings. And it is frequently used to grow the business. It follows that companies with the most cash to grow will be the strongest in the short and long term. Historically, their stock prices will rise. (Refer to Figure 1 in Part 1.)
To view a company's five-year history of cash from operations, visit www.zacks.com. Go to the Zack's research tab. Insert the company's ticker symbol, enter go, go to financials, then go to cash flow statement. For an example of Monsanto's (MON) data, see Figure 2 below.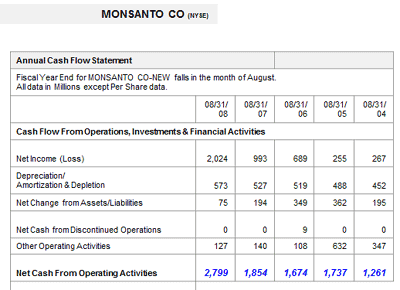 Click to Enlarge
The data read from right to left and show it positively trending every year since 2004. Now refer to Figure 3 below, showing MON's stock price history during the same time frame.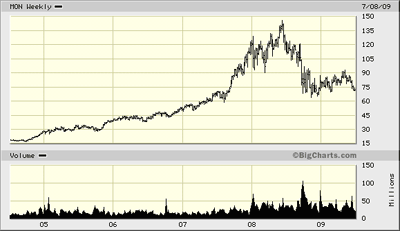 Click to Enlarge
The stock went from $15 per share to $75 per share (a five-fold increase in five years) and was as high as $145 during a time period when the overall market was mixed with very few gains. So much for efficient market theory!
Below is a list of 33 companies that currently have positively trending cash from operations in 15 different market sectors. Incidentally, from this list, only one of the 33 companies has underperformed the overall market. That was Eli Lily (LLY).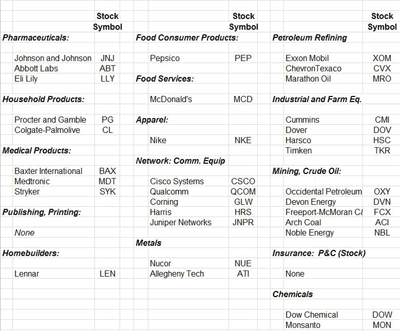 Click to Enlarge
Investing in financially strong stocks is not a buy-and-hold investment strategy. Tomorrow, in Part 3, we will show how to utilize a well-recognized indicator to time entry and exit trades.
By Dale Brethauer, trading mentor, Pacific Trading Academy.