Bullish Sentiment Still Rules
02/21/2011 11:45 am EST
Focus: STRATEGIES
A new survey reveals traders' opinions about this year's action in stocks, gold, oil, and the US economy.
The largest retail trading event in North America kicks off in New York City this week. As event organizers have done for several years, attendees were surveyed prior to their arrival about their thoughts on market direction, where their trading profits will come from in 2011, and their predictions for gold, oil, and the overall US economy.
MoneyShow.com polled over 700 short-term traders to find out what the current trader sentiment is for this market.
The first question is always about general market direction. Traders were asked if they believe the S&P 500 index will rise or fall by the end of 2011. Over 64% stated they felt the market would rise from its current levels in 2011, with nearly 10% predicting it would rise more than 25% between now and December 31, 2011.

Click to Enlarge
When asked how the number of trades they would make this year compared to last year, over 50% stated they would be making more trades in 2011 than they did in 2010.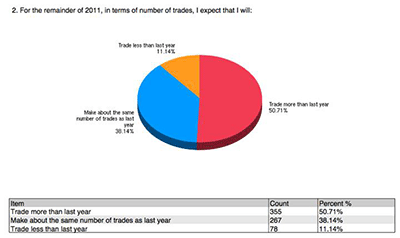 Click to Enlarge
The retail trader has typically not been a short seller, although that has changed over the past few years. Short-term traders have continued to increase the number of short-sale trades they have made as a percentage of their overall trading strategy. Of the traders polled, only 20% stated that none of their trades would be short sales, while nearly 23% stated that up to half of their trades would be short:

Click to Enlarge
The equity markets still remain the major market playground for short-term traders, with just over 35% of traders surveyed stating they would have their most profitable trades in stocks in 2011: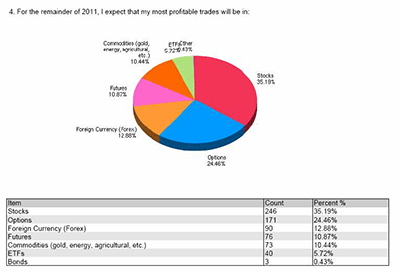 Click to Enlarge
In a marked change from a previous survey in November 2010, over 50% of traders felt the Federal Reserve Bank would raise rates at least once in 2011: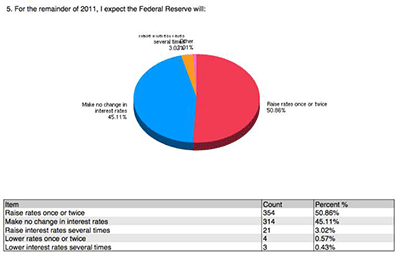 Click to Enlarge
MORE: Traders Voice Latest Opinions About the Dollar and Commodities
|pagebreak|
In line with the recent bull market action, over 70% of short-term traders surveyed stated their trading profits in 2011 would exceed their 2010 profits: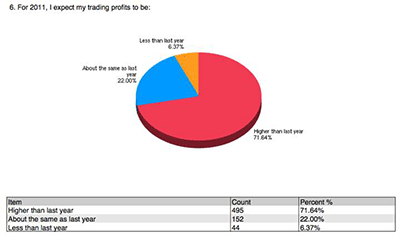 Click to Enlarge
Traders had mixed opinions about the direction of the US dollar in relation to other world currencies.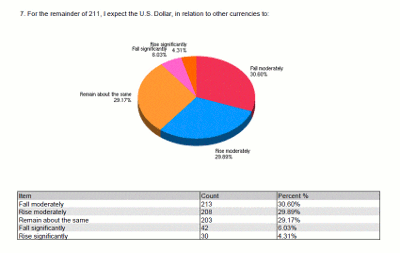 Click to Enlarge
Short-term traders also remain bullish on the price of gold, although not exceedingly so. Nearly 60% stated gold will rise up to 25% in 2011, while just over 11% were bearish on the price of gold for the remainder of 2011: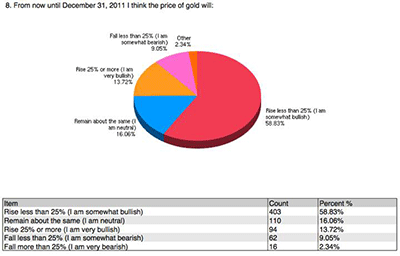 Click to Enlarge
Traders polled were also bullish on the price of crude oil, with nearly 57% predicting the price would rise up to 25%. Another 14% stated it would rise 25% or more by the end of the year.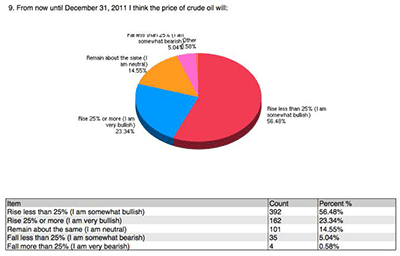 Click to Enlarge
Finally, traders were asked about the overall economy and its health in 2011. Nearly 50% predicted the US economy would improve throughout 2011: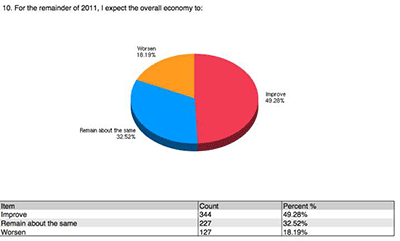 Click to Enlarge
Traders will be polled again at the Dallas Traders Expo in June and the Las Vegas Traders Expo in November.
More information on those upcoming events can be found at www.TradersExpo.com.
By Tim Bourquin, trading content director, MoneyShow.com