Fear Is High—Time to Buy?
02/25/2011 5:00 am EST
Focus: STOCKS
Stocks have pulled back sharply amid violence in the Middle East, but brave buyers looking to get in while others flee should be aware of some key technical levels nearby.
The markets hate uncertainty, and that's where we are currently.
This uncertainty can be summed up in a few words: Middle East, Libya, Bahrain, and then some. That is what's creating the uncertainty. Should Libya fall, then some of the uncertainty will subside along with it. We've all seen it before: Once some sort of certainty comes back into the markets, the futures will be up big in afterhours trading (think Iraq in 1991). Sure, when Libya's "Saturday Night Live" dictator falls (and how), it could create a knee-jerk, down-on-the-news event, but keep in mind that a level of uncertainty will have diminished too.
But here is the catch: At what level will it start, and when? Short term, we are tagging some technical levels, so be aware.
We are all for buying in the face of fear (amid uncertainty) around here, but we aren't for loading up the truck on the long side until we see some stabilization. We'll take it one step at a time and nibble for some long-side exposure in some of the key leaders that are still intact.
Let's look at a little index action right now: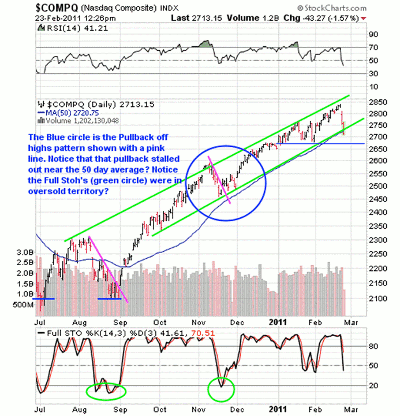 Click to Enlarge
Well folks, here we are in the face of uncertainty at/below the 50-day average. See that thin blue line? It's the next support level should this 50-day average level not stick. As you can see, the full Stochastics (below the chart) are getting into the oversold zone much like last time, so we are, technically speaking, getting close to some sort of level where stabilization could occur.

Click to Enlarge
The S&P 500—as usual—looks a tad different, but the blue lines and the 50-day MA are your guides. An event could be what it's going to take to get this issue to the 50-day MA or even the 1275 support level. But just one more bad day in the indexes and we would basically be there.

By David Grandey
David Grandey can be found at AllAboutTrends.wordpress.com. To learn more, sign up for the free newsletter and receive a free report, "How to Outperform 90% of Wall Street with Just $500 a Week."