Don't Chase Silver…Short It Instead
04/12/2011 7:00 am EST
Focus: COMMODITIES
Silver looks to be going parabolic, and one trader highlights two distinct strategies that can be used to go short the high-flying metal based on their own risk profile.
I mainly target gold when trading precious metals, but silver has obviously grabbed the limelight by outperforming over the past few years. Recently, gold was pulling off but silver was once again rallying to all-time highs. I've gotten involved trading silver more recently, including a quick short trade back around March 7-10.
While I am not often in the business of trying to short parabolic moves, I feel this is another opportunity to get great risk/reward in a silver short trade.
If you're long silver for a swing trade, it would be prudent to take a large portion of profits into this strength. If you are flat silver, don't chase a parabolic move like this.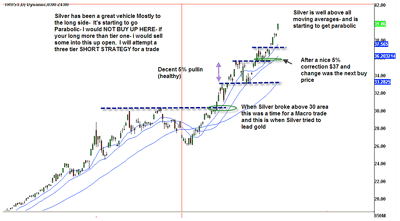 Click to Enlarge
I see two ways to approach this trade:
Strategy 1: You can take a three-tiered approach and systematically short from here up, but you will have to be willing to take some pain and you need some time to trade out of it.
The first tier of this trade would be anticipatory in nature: Get short first around $40.20 on the iShares Silver Trust (SLV) and then map out plans higher. But don't add tiers too quickly and get too much size.
Strategy 2: If you are very risk-averse, you wait for silver to put a 15-30 minute high in and then short versus that high and use that as your stop.
Next, look to add a tier if it breaks below and holds below Friday's highs of $39.90. If you use this approach, you know your stop and risk.
A lot of shorts have been squeezed on silver's relentless climb, and this trade is not for the faint of heart.
I will try and use the tier approach in my swing account and use the second strategy in my cash flow account.
By Scott Redler, trader, T3Live.com