Pharma ETF Has the Right Prescription
04/15/2011 6:00 am EST
Focus: ETFS
Big pharma is on the rise lately, and one of the sector's top ETFs looks like an attractive buy. With relatively safe and well-capitalized industry giants as top holdings, it's certainly worthy of a checkup.
While developing and running various advanced stock screens, I noticed some big-name drug companies popping up on different lists. Taking a look at the most liquid ETF for the pharma sector, Pharmaceutical HOLDRs Trust (PPH), this group has had a nice quiet breakout recently.
Amid an uncertain economy and world news environment, this is the kind of group that will often find money flowing into it as a relative safe haven.
This ETF holds the large companies that generally have low P/E ratios and fairly "safe" fundamentals. Names like Johnson & Johnson (JNJ), Pfizer (PFE), Merck (MRK), Abbott Labs (ABT), Bristol-Myers (BMY), Eli Lilly (LLY), and Medco (MHS) are among the fund's top holdings.
Taking a look at the PPH daily chart below, you can see that the shares had a nice gap up on the last trading day of March above the $66 level. This area had previously acted as resistance three times since last October. This should now act as a support level and would be a good low-risk entry point on pullbacks, in my view.
However, we may not even pull back that far given the strength in Percent R and Stochastics we see on this chart. Traders may want to consider the $66.50 or $67 levels for entry points.
This chart also basically forms an ascending triangle pattern with the higher lows and upside resistance forming a wedge—which has been broken out of to the upside this month, a positive technical pattern.
I tend to focus on round strike price numbers for upside targets, especially when they have previously been important technical levels. This gives us upside targets of $70, $75, and $80 for PPH over the medium term.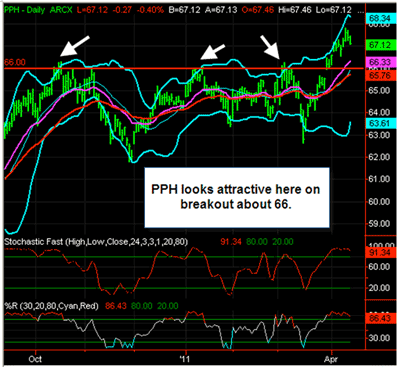 Click to Enlarge
NEXT: A Simple Factor That Could Push PHP Even Higher
|pagebreak|
Interestingly enough, this ETF is breaking out despite the fact that the top holding in it, JNJ, has been lagging the market and basically downtrending in the bigger picture. See the chart below, which covers the same time frame as the PPH chart.
There isn't one particular name driving PPH higher, and the general strength seen in it despite the relative weakness in JNJ is another bonus. If JNJ can regain relative strength and/or continue its uptrend since bottoming in mid March, that could give an extra "kick" to PPH performance, in my view.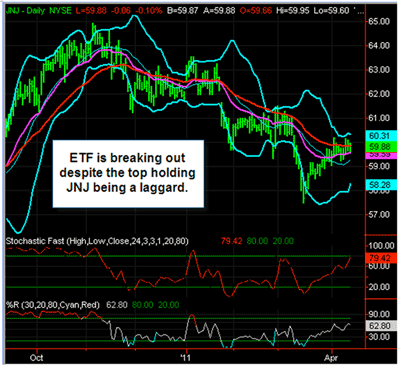 Click to Enlarge
I view PPH as a strong market outperformer around current levels with a preferred entry point in the $66-$67 area. Upside targets of $70, $75, and $80 are possible over the next three months or so.
NOTE: This info is for educational purposes only and is not a specific trade recommendation. For purposes of full disclosure, I do hold PPH calls in a trading account.
By Moby Waller of BigTrends.com