5 Bullish Factors Are Driving Ford (F)
01/13/2012 8:00 am EST
Focus: STOCKS
Mike Kapsch, a contributor to Investment U, explains why Ford (F) is in a position to move higher based on the company's strategy to innovate, grow, and increase sales.
I recently wrote about the "connected car" making its debut at this year's International Consumer Electronics Show (CES) in Las Vegas, Nevada.
Yesterday, Ford (F) CEO Alan Mulally gave his keynote speech at CES touting the automaker's future innovations to the standard automobile. Those in attendance heard about the coming introduction of heart monitoring systems in your steering wheel, the emergence of vehicle-to-vehicle communication, getting instant weather and traffic updates on your dashboard, as well as a slew of other technologies that'll soon dramatically improve the everyday driving experience.
But for Ford, this is just the beginning, and its shares could see a jolt over the next several months. Here are five good reasons why.
Ford's Expanding into Silicon Valley
Ford introduced its communications system—Sync—four years ago, which uses Bluetooth to connect cell phones and MP3 players to Ford's cars. But now the firm has an even bigger vision with the connected car. And it's no pipe-dream…
The company is about to open its first research lab in Silicon Valley in just the next few months. As Fox News reports, "The lab will work on ways to integrate phones and personal devices into cars, as well as safety systems that alert drivers when they're approaching another vehicle.
The lab will also solicit and test applications from independent programmers. One app… can find an open parking space and reserve it. Another would improve weather reporting by transmitting signals when a car's rain-sensing wipers are triggered."
The bottom line: These services could end up generating billions of dollars for Ford and its affiliates each year as it finds ways to integrate new technologies into its automobiles. Just think, General Motors' (GM) OnStar was a $4 billion revenue boost for the company roughly ten years ago.
The First Plug-in Hybrid with 100 mpg
Oil prices could easily skyrocket this year. Gas prices would certainly follow suit if that happens. And the average car on the road is already over ten years old.
The point is, it only makes sense that the next car consumers look to buy will likely be one that can get much further using less gasoline.
At the Detroit auto show yesterday, Ford revealed its 2013 plug-in Fusion hybrid, which will trump every other liquid-powered vehicle in terms of gas efficiency.
The current Fusion is already the most popular car built by an American automaker, with sales totaling 248,067 in 2011. Incentives like 100 miles per gallon and new gadgets will only likely push sales higher.
NEXT: Calm Leadership Even in Crisis Times
|pagebreak|
CEO Alan Mulally "Gets it"
When the financial crisis struck in 2008, Ford lost $14.8 billion, the most in its 108-year history. It also burned through 61% of its cash reserves, $21.2 billion.
Yet somehow, Mulally led Ford through the financial crisis without needing a single bailout from the US government. And by 2011, The New York Times reported the company announced it would pay bonuses of $5,000 and more to its hourly workers.
Even more, over the past year, Mulally helped boost the company's return on equity up 317%. And generally, the higher the return on equity, the more efficient a company is at generating profits with the money it gets from investors. That's a very positive sign for the months ahead.
Auto Sales Are Picking up Steam
It's no secret the financial crisis hit the auto manufacturing industry very hard. In fact, the entire global economy is still feeling its effects. Yet the auto industry is starting to rebound. December sales rose 10%, signifying a stronger year ahead.
And while they wouldn't give specifics, both Ford and GM's CEOs have hinted that sales have continued surging so far this month.
Ford's Shares Appear to Be Trading at a Discount
Despite all the good news just mentioned, Ford's shares were clobbered last year, down 39% in 2011.
Yet while that news is likely enough to scare away most investors, company executives say Ford's shares are way oversold. They're even putting their money where their mouth is to prove it.
Over the past six months, insiders at Ford have purchased 118,000 shares worth just under $1.4 million at the current share price.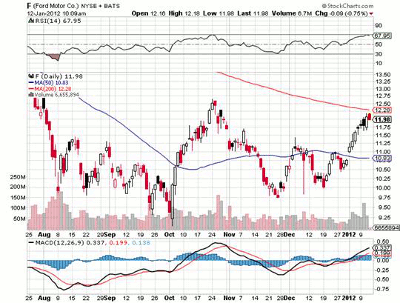 Click to Enlarge
Ford (F) is just about to run into its 200-day moving average. If it can break through, these five factors seem to point to success in the near future.
By Mike Kapsch of Investment U