Is Divergence an Early Warning?
04/02/2013 6:00 am EST
Focus: TRADING
The S&P 500 has finally joined the Dow Industrials in notching all-time highs, but Pike Trader, on SharePlanner.com points out a disconcerting divergence between price and breadth.
Internals are the breadth of the market and breadth is what is truly going on in the market.
It represents the vital signs, and it is based on all stocks and treats them all equally; it cannot be manipulated. Since the last rally off the February lows, the market has been rallying, yet internals have been diverging in a negative way from this. This doesn't mean the breadth of the market has been bearish or weak, it means that the market is making new highs in price without breadth. But this should be a warning since any TA trader wants to see breadth also following the market to new highs.
NYMO: Has been in negatively diverging from the market since December of last year, but the most important level's divergence is from the high in March to now. NYMO has barely got above 10 and spent most of the time down below the zero line.

Click to Enlarge
NYSI: Which is a longer-term indicator is showing more divergence in the market.
You can see how NYSI was moving along with the market till late January when it started to decline, which precipitated the early March decline, and since then, NYSI has not been able to get back to those levels, and now as the market has rallied to new highs, NYSI continues to decline.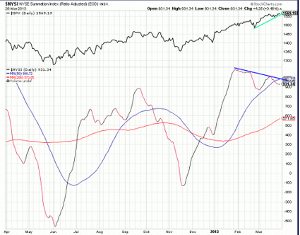 Click to Enlarge
Overall, the market can still trend up with weaker internals, but it won't last forever, and the weaker the internals, the less support it has when the market does fall. If these new highs were legit new highs and signs of greater new highs, breadth would be following. Be wary of the negative divergence in the internals, especially since we are heading into the bearish summer season, which seems like a good time for a correction.
By Pike Trader, Contributor, SharePlanner.com
By clicking submit, you agree to our privacy policy & terms of service.
---
Related Articles on TRADING