4 Signs of Deteriorating Risk Sentiment
03/13/2014 6:00 am EST
Focus: TRADING
The staff at Forex.com shares four charts to watch that could give early warning signs of a change in risk sentiment in the markets.
At the end of last week it seemed like we were moving into a period of stabilization for financial markets, where risk sentiment could thrive after February NFP's exceeded expectations. However, as we progress through this week risk sentiment is souring once more. It appears that it is China, not Ukraine, that is the biggest market fear right now and large falls in commodity prices, including iron ore and copper, have dented risk sentiment overall.
We have picked four charts to watch in the coming hours and days to see if risk sentiment is starting to turn and whether we could experience the type of volatility that we saw back in January when stocks sold off and investors piled into safe havens.
1. Vix Index
This is Wall Street's fear gauge and when it moves higher it tends to correspond with a period of weakness in stock markets. As you can see, this index has popped higher after moderating last week. It is nowhere near panic territory yet; it was above 20 in late January when Ukraine fears knocked sentiment. One point to note is that the index did not fall back to the pre-January panic lows after risk sentiment stabilized last month, which signals that residual nervousness remained in the markets, and panic could flare up once more. If the Vix continues to move higher this could be bad news for stocks.

Click to Enlarge
2. AUD/JPY
This is considered a litmus test for risk sentiment. On Friday, it looked like it may spike higher and break multi-month highs; however it stumbled just ahead of 94.40. It has fallen sharply since then and is currently testing a key level of support at 91.80—the 200-day sma. A break below here would be a bearish development that could be triggered by another bout of risk aversion, so watch this space. During the period of market turmoil earlier this year AUD/JPY fell to a low of 88.24, so there could be scope for further downside if risk sentiment fails to stabilize.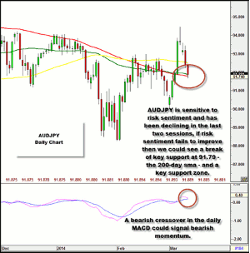 Click to Enlarge
3. Copper
The orange metal has fallen to a four-year low, and has dipped below the critical $300 level. The decline was triggered by more weak China data, which is starting to weigh on overall risk sentiment. Watch for further declines in the price of copper to signal a further deterioration in risk sentiment, which could also weigh on the Aussie and commodity bloc of currencies.

Click to Enlarge
4. Turkey
The two-year Turkish bond yield rose to a fresh five-year high on Wednesday morning, which has corresponded with a fall in the Turkish lira (rise in USD/TRY, as in the chart below).

Click to Enlarge
The Turkish lira sold off sharply during the last bout of risk aversion, as the EM FX space came under attack. If we see USD/TRY continue to move higher (TRY lower) then we could see back to record highs at 2.3900 from January 27, which could weigh on the broader EM FX space.
By the Staff at Forex.com
By clicking submit, you agree to our privacy policy & terms of service.
---
Related Articles on TRADING