Crude Oil About to Bust a Move
05/07/2014 6:00 am EST
Focus: COMMODITIES
Nico Isaac of ElliottWave.com demonstrates how Elliott Wave Theory can help you predict and trade crude oil's next move better than fundamental analysis.
The other day I was thinking how some fundamental market analysis is like pulling a blank Scrabble tile out of the bag.
Why? Well, because first, you wait to see what words (err, price moves) develop on the board (err, price chart). And then, and only then, do you decide what letter (err, news event) the blank tile will represent—to fit that price action retroactively.
If prices fall, then the blank tile is assigned a bearish news event
If prices rise, the tile is ascribed a bullish event
You can use a recent cluster of crude oil headlines for a real-world example.
In early-morning trading on April 28, oil prices took a strong step higher. The mainstream "fundamental" experts were unanimous in their explanation as to what caused the bounce: The announcement of additional sanctions against Russian companies by the US and European Union—care of the ongoing crisis in Ukraine.
These items from the major newswires paint a very clear bullish picture. Follow along:
"Crude Oil Edges Higher with Fresh Russia Sanctions in Focus. I think the Brent contract is likely to remain supported for the foreseeable future."
"Oil prices rose as traders refocused on geopolitical risks from Russia's intervention in Ukraine."
"It's hard to make a strong bearish case with tensions in Ukraine."
Yet—as the following price chart shows, Brent oil's "supported" uptrend ended that same day. (Source: ft.com)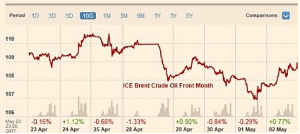 Click to Enlarge
After the sell-off began, conspicuously gone from crude oil's backdrop was Russia. In its place, a bearish supply report filled the blank "fundamentals" tile: "Oil falls to near $100 as a report showed an increase in US crude stockpiles."
On May 2, our own Energy Pro Service editor Steven Craig pointed out the obvious flaw in this mainstream logic:
"The ongoing Ukraine/Russia tensions have routinely been cited as a 'causative' factor on the up days—and largely ignored on the down days."
Steve does acknowledge that the tenuous situation in Russia could indeed play a major role in the future of oil. But, says Steve, only one major event would have a "lasting bullish impact."
His latest forecast shows that oil prices may be on the brink of powerful Elliott wave pattern: a third wave. In Elliott waves, t-h-i-r-d is a five-letter word for huge moves ahead.
By Nico Isaac of ElliottWave.com