Patience & Perspective
05/08/2014 9:00 am EST
Focus: STRATEGIES
Gary Tanashian of BiiWii.com shares some of the lessons he's learned about the nature of the markets in 2013 vs. 2014, transitions, and the emergence of new trends.
This article bemoaning the trendless global market is good news for people like me, because my thing is to anticipate big market trend changes or "macro pivots" rather than follow trends and cheer lead them to conclusion. I am generally a bottom feeder.
The thing I need to work on is not being in the right place at the right time, but rather staying in that place longer as trends mature. I just can't stand the kind of company that one keeps in an extended trend because as it goes on, more and more of that company is comprised of the people who were afraid to buy (or short as the case may be) when things were 180° different. They scare me, and that is in my psych makeup. It needs work.
Anyway, the article hit home because now the macro trend followers are having difficulty too. That means we are likely pivoting. What comes next? Why, new trends of course.
Novogratz lamented the lack of "great themes" and worried that markets have an "eerie calm." Central banks are dominating the agenda, volatility is low and expected to remain low, both traders noted.
The stock market is chopping toward something. Gold is chopping toward something else and in the transition, many people are getting chopped up. By way of example, the HUI Gold Bugs index spent over a year chopping and grinding before resolving into its bear market. Look at that grind fest in 2010 and 2011.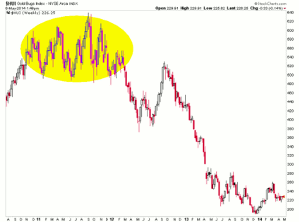 Click to Enlarge
As to this chart, I did not see it as a major top at the time because HUI had made all-time highs (sound familiar?). In fact, I had serious upside targets in play. Only when it broke down did I really catch on to what it was. I for one, learn my lessons. One lesson is that an extended period of trendless chop and grind—in a market that had previously been very bullish—that does not look like a bullish consolidation/continuation pattern—is a reason for concern, not boredom as the article implies.
I am the guy writing about patience, perspective, and all that other stuff that sounds pretty boring during a go-go trend. Again, I need to work on my ability to manage a maturing trend. Now however, patience and perspective are at a premium. This looks like an ending trend and that 2014 is going to be an interesting, not a boring year as many (including those featured in the article) seem to think.
By Gary Tanashian of BiiWii.com