Butterfly Option Trades: Three Things to Watch
09/17/2010 12:01 am EST
Focus: OPTIONS
Option mentoring is not an easy business. Our option mentoring students are always looking for easy, simple answers to very complicated questions. One subject that I really concentrate on is trade selection. There are dodo's out there who suggest that the same trade every month works, and these people are probably not trading. They say to trade the same trade every month because it is simple. Trading is not simple; trading is hard. However, I am a fair person and want to help, and thus, I developed a three-part checklist to tell whether it is safe to enter a butterfly trade. There is a lot more to the success of a fly than these three things, but this is a good place to start.
1) Make Sure to Pay Attention to the IV of the Butterfly
Believe it or not, the trader does not want enter the fly when implied volatility is sky high. When IV's are sky high, there is likely to be a snapback rally. If IV's are too low, that is bad too, because the trade is likely to have IV pop. I find that middle-of-the-road implied volatility is actually the best place to enter butterflies. If the IV's are in between 25%-75% of the 90-day mean implied volatility, feel free to check number one off. If too high or too low, no check box.
2) Make Sure the Inter-Month Skew Isn't Too Wide
If inter-month skew is too wide, this is another warning sign of a breakout. If this sounds similar to a guide I use for butterflies, it's because it is. When inter-month skew is too negative, it can mean that in relative terms, the front month is too high. Butterflies are a front-month trade, thus we want to avoid this problem. If the skew is too positive, that likely means the market is moving around a lot in relative terms. Considering butterflies are a gamma trade, this is also bad news. There are some really great ways to track this skew; one quick way is to compare VIX to VXV. This can give a pretty good idea of how 30-day volatility is behaving relative to 90-day volatility. If the term spread is not too high or too low, put a check in the box; otherwise, we are a no go.
While 90-day volume is usually higher than 30-day volume, I think traders can see where how points of widening coincide with major moves:


Click to Enlarge
3) Watch Intra-Month Skew
When skew is high, butterflies are a very tough trade (see May, June, and July for details). When skew is low, butterflies are an easy trade and cheap to ensure (see August).
What does this skew look like? Take a look: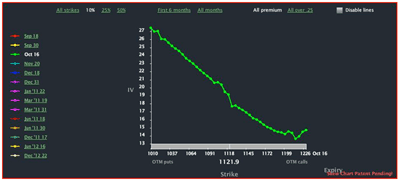 Click to Enlarge
Again, this is not the answer to all trading questions, I am sure. I did not attach any numeric guidelines, as I do for my option mentoring students, for checkbox two and three. Also, there are more things too look at than just these three, in my opinion. That said, if all three of these can be checked off, the butterfly is probably a favorable trade to enter at that given time.
By Mark Sebastian of OptionPit.com