Option Traders Hedging Their Bets on Intel
01/13/2011 3:03 am EST
Focus: OPTIONS
Intel Corp. (INTC) is slated to release its quarterly report after the close of trading Thursday night. As Schaeffer's Sarah Wasserman reported, analysts are expecting a profit of 53 cents per share from the semiconductor giant, a 13-cent improvement over the same quarter last year.
In each of the past four quarters, INTC has beaten the consensus estimate, Thomson Reuters reports.
Overall, analysts have pretty high expectations for the fundamental outperformer, with Zacks reporting that 25 of the 42 brokerage firms following the stock call it a "buy" or better. Meanwhile, Thomson Reuters pegs the stock's consensus 12-month price target at $23.72, representing a premium of 15% to the equity's Monday close of $20.69, and in territory not explored by INTC since April 2010.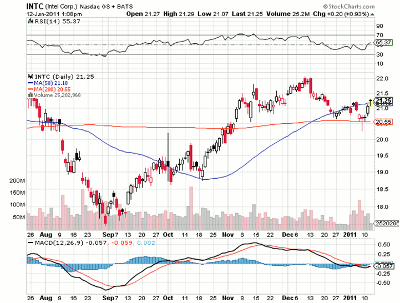 Click to Enlarge
Heading into the report, INTC is once again attempting to push past the $21 region, an area that has provided both support and resistance for the shares in the past.
Not wanting to take any chances with a potential rejection or poorly received quarterly report, one option trader has entered a straddle on INTC heading into the event. Specifically, a block of 3,000 INTC January 2011 21 calls traded for the ask price of $0.42, or $42 per contract, at about 9:51 am on the International Securities Exchange (ISE). Simultaneously, a block of 3,000 January 2011 21 puts traded for the ask price of $0.51, or $51 per contract, on the ISE.
The result is net debit of $0.93, or $93 per contract, with a grand total of $279,000 for the entire position.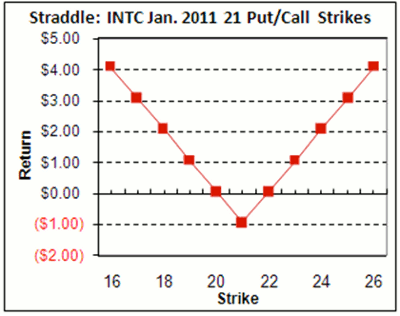 Click to Enlarge
The trader needs INTC to rally past $21.93 (a move of roughly 3.4%) or plunge below $20.07 (a move of roughly 5.3%) in order to realize a profit on the trade. The maximum profit is theoretically unlimited, while the maximum loss is limited to the initial net debit of $93 per contract.
By Joseph Hargett, contributor, Schaeffer's Trading Floor Blog