Put Sellers Hop on Their HOG
04/15/2011 4:00 am EST
Focus: STOCKS
Harley-Davidson, Inc. (HOG) is set to unveil first-quarter earnings on Tuesday, April 19, and traders betting on a strong report are selling puts as a means of profiting from a bullish move in the stock.
Historically speaking, the motorcycle mogul has exceeded analysts' per-share profit predictions in each of the past four quarters, according to Thomson Reuters. What's more, it appears a slew of option players are employing puts to bet bullishly on the equity.
Within the first hour of the session yesterday, HOG had seen close to 5,900 puts cross the tape—already more than three times its average single-session put activity. Most notably, the security's at-the-money May 41 put had seen about 2,500 contracts change hands on open interest of fewer than 1,850, hinting at the initiation of new positions.
However, as alluded to earlier, the majority of the puts have traded at the bid price, suggesting they were sold.
The put writers' objective is for the shares of HOG to finish north of the $41 level when the soon-to-be front-month options expire. In this best-case scenario, the sold contracts will expire worthless, and the sellers can hang on to the initial premium collected on the sale.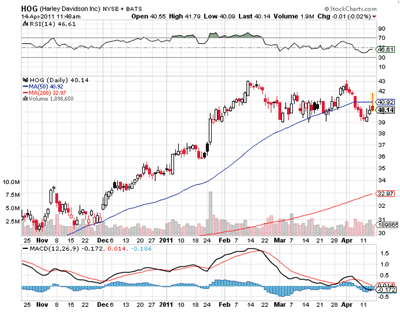 Click to Enlarge
Elsewhere on the Street, analysts at Raymond James have also assumed an optimistic stance on HOG, upgrading the stock to "strong buy" from "market perform" this week.
By Elizabeth Harrow, contributor, Schaeffer's Trading Floor Blog