Behind the Scenes of a Bear Call Spread
05/12/2011 8:00 am EST
Focus: OPTIONS
Taking advantage of major resistance levels in China's top Internet stock, one trader bought a duo of strike calls that allow for low-risk profits.
Baidu (BIDU) is a hugely popular trading vehicle for active traders. Its liquidity and available options attract millions of transactions each day.
BIDU has enjoyed a nice run up in 2011, but is also vulnerable to tremendous volatility. Here's a recent daily chart: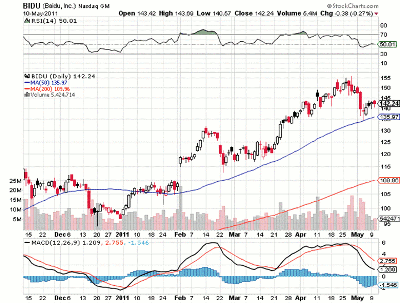 Click to Enlarge
Options players have shown an increased appetite lately for bearish bets on BIDU, according to data from the International Securities Exchange (ISE), Chicago Board Options Exchange (CBOE), and NASDAQ OMX PHLX (PHLX).
During the past ten sessions, BIDU has racked up an ISE/CBOE/PHLX put/call volume ratio of 0.62, which ranks higher than 70% of other such readings taken during the past year. In other words, speculators have purchased puts over calls at a faster pace just 30% of the time.
However, on Monday, one trader used call options to bet on lackluster price action for BIDU. Specifically, the speculator constructed a short call spread, or credit spread, by selling 355 contracts of the weekly 150-strike call and simultaneously purchasing an equivalent number of weekly 155-strike calls. Essentially, this trader is looking for BIDU to remain pinned at or below $150 through the end of this week, when these weekly options expire.
The neutral-to-bearish spread was opened for an initial net credit of $0.22, or $22 per contract, which is the speculator's maximum potential profit on the play (less any brokerage fees). The trader may retain this entire amount if BIDU closes anywhere at or below $150 at the end of Friday's session, while all of the contracts involved could be left to expire worthless.
Even if BIDU bolts higher over the next several sessions, the purchase of the higher-strike call works to limit the spread player's risk. No matter how high the stock should rise, the trader's maximum potential loss is limited to the difference between the two strikes, less the initial net credit—in this case, $4.78.
Checking out the chart above, it's not too hard to see why Monday's spread speculator is betting on a period of short-term stagnation south of $150. BIDU has blazed an impressive path higher, with the stock more than doubling in value over the past 52 weeks. The stock is still trading comfortably north of support at its ten-week and 20-week moving averages, which have underlined BIDU's ascent for more than two years.
However, the round-number $150 region hasn't yet been surmounted on a weekly closing basis, despite several challenges of this area. It's reasonable to assume that this looming technical level could continue to cap BIDU's progress, at least through the end of the week.
Elizabeth Harrow is a contributor to Schaeffer's Trading Floor Blog.