Big News Spurs Call Run on CoreLogic
09/01/2011 7:00 am EST
Focus: OPTIONS
Reports about a potential sale of computer company CoreLogic (CLGX) caused option traders to open new call positions at an explosive rate this week, while existing shorts likely rushed to cover.
All eyes were on CoreLogic Inc. (CLGX) yesterday morning after the computer services concern revealed that it has formed a special committee "to explore a wide range of options aimed at enhancing shareholder value," including a potential sale. Greenhill & Co. has been retained to advise the committee as it evaluates the alternatives.
CLGX gapped higher out of the gate Tuesday morning (Aug. 30), and the stock is still up significantly at last check. As a result, the shares are set to collect a daily victory above their ten- and 20-day moving averages for the first time since July 21.
This rally is a welcome change of pace for beaten-down CLGX, which has shed 52.5% of its value so far in 2011.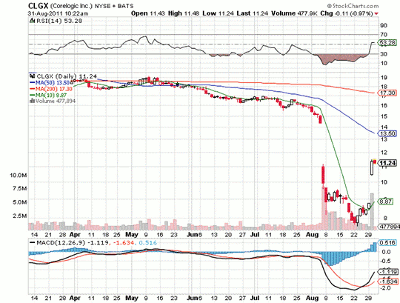 Click to Enlarge
Meanwhile, call volume rocketed to 98 times the expected level on CLGX early this week, with nearly 1,900 contracts crossing the tape within the first 30 minutes of Tuesday's session. (Obviously, it's not hard to trade at 98 times normal volume when option volume is typically relatively low.)
Traders appear to be adding new bullish bets at the out-of-the-money October 12.50 call, where 801 contracts have been exchanged, 52% at the ask price, indicating they were most likely purchased. This back-month strike has zero contracts in open interest, so it's safe to assume these are all freshly opened calls.
Checking out CLGX's sentiment backdrop, Tuesday's breakout rally could be the result of short sellers rushing to cover. Currently, about 6.3% of the stock's float is sold short, pointing to a healthy supply of sideline cash.
By Elizabeth Harrow, contributor, Schaeffer's Trading Floor Blog