LEAPS: Trade with Less Capital and Risk
09/06/2011 11:52 am EST
Focus: OPTIONS
The announcement of a new CEO has led to bullish speculation on shares of fast-food chain Wendy's Company (WEN), and option traders are using LEAPS to play the news with limited risk.
Wendy's Company (WEN) has been a favorite target among call traders in the last few trading sessions after the fast-food firm announced a new CEO. Specifically, the company said Emil Brolick, a former executive with both Wendy's and Yum Brands (YUM), will step into the CEO role on September 12, replacing Roland Smith. In a statement, Chairman Nelson Peltz called Brolick "a proven brand builder."
By mid-day on Thursday (Sept. 1), for example, WEN had seen about 1,900 calls cross the tape—about three times its average daily volume of fewer than 600 calls. For comparison, just 11 WEN puts had changed hands by that time during the same trading day last week.
Digging deeper, we found that most of the action has centered on the at-the-money January 2012 5-strike call, which saw close to 1,200 contracts traded. Sixty-nine percent of the LEAPS (long-term equity anticipation securities) have crossed at the ask price, and implied volatility was last seen 1.2 percentage points higher, hinting at buy-to-open activity.
By purchasing the calls to open, the buyers are expecting WEN to extend its upward momentum north of $5 through the next several months.
From a broader sentiment standpoint, though, trader affinity for long calls stands in stark contrast to the recent trends seen on the International Securities Exchange (ISE), Chicago Board Options Exchange (CBOE), and NASDAQ OMX PHLX (PHLX). In fact, the equity's ten-day put/call volume ratio on the exchanges sits at 0.40—just two percentage points from an annual peak.
In other words, options players have displayed a healthier-than-usual appetite for bearish bets over bullish during the past couple of weeks.
WEN is flirting with its 200-day moving average in recent sessions. If it acts as support, it could be one more reason to be bullish on the stock.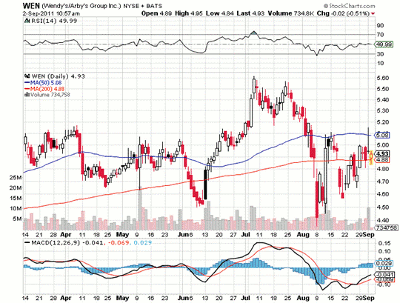 Click to Enlarge
LEAPS are a terrific way to trade longer-term views (such as the effectiveness of a new CEO) using limited capital and limited risk.
See related: Using LEAP Options for Conservative Trading
By Andrea Kramer, contributor, Schaeffer's Trading Floor Blog