Great Example of a Ratio Call Spread
02/21/2012 9:28 am EST
Focus: OPTIONS
Terri Stridsberg of Schaeffer's Investment Research highlights a recent option trade in one stock that is an excellent example of a popular option strategy.
Devon Energy Corporation (DVN) rallied late last week, and received several analyst price-target hikes, after reporting on Wednesday that its adjusted fourth-quarter earnings toppled analysts' bottom-line estimates.
This news likely prompted a wave of call activity last week, as roughly 25,000 of these options changed hands on Thursday morning alone, reflecting five times the equity's expected intraday volume.
Most popular among traders were the in the money March 72.50 strike, where close to 11,900 calls have crossed the tape-most of them between the ask and bid prices, making it hard to discern whether they were bought or sold. However, this option is currently home to peak call open interest of just 10,824 contracts, indicating an influx of new positions.
Digging deeper into the data, it appears that one speculator sold a block of 4,500 calls at the March 67.50 strike, as well as a block of 9,000 calls at the March 72.50 strike. Meanwhile, he bought 4,500 puts at the March 55 strike. This activity implies that the investor closed out his bullish ratio call spread-as well as his accompanying put position-in the face of the stock's rally. It is a great example of how options can be used to enter a position for profit while protecting against risk at the same time.
This put activity aside, last week's upswing in call volume is more of the same for the oil and gas concern. The Schaeffer's put/call open interest ratio (SOIR) sits at 0.68, confirming that calls comfortably outnumber puts among options slated to expire in three months.
This ratio registers in only the 19th percentile of its annual range, signaling that near-term options players have been more bullishly aligned toward the stock just 19% of the time during the past year.
On the technical front, DVN is up around 21% so far this year, and has outperformed the broader S&P 500 index by 12% during the last 40 sessions. A look at the charts shows that the stock is on pace to close a third consecutive session atop its 200-day moving average, which had been largely out of reach since late July.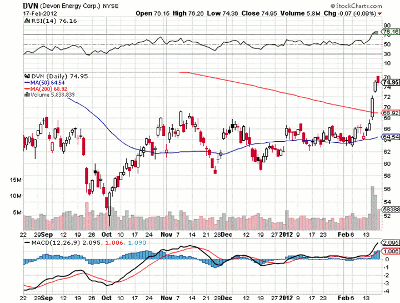 Click to Enlarge
Terri Stridsberg is a contributor to Schaeffer's Investment Research.