Option Strangle That's Right on Target
05/11/2012 7:00 am EST
Focus: OPTIONS
This clever options position is set up to profit if a popular retail stock heads solidly in any direction, be it up or down, writes Karee Venema of Schaeffer's Research.
Here is a great example of how traders can use options to profit if a stock moves well in one direction or the other. You may not know which way a stock will run, and in this case, you wouldn't need to. It just needs to trend up or down and not run in a channel prior to expiration. Here's how it works.
Option activity was heavy on Target Corporation (TGT) in this week's trading sessions. With speculators responding to TGT's lower-than-forecast April sales report, calls and puts traded at two times and three times their respective average daily volume. Calls won the numbers race, though, with roughly 10,000 contracts crossing the tape, versus around 8,350 put contracts on Wednesday alone.
This week's trend toward calls is confirmed by data from the International Securities Exchange (ISE), Chicago Board Options Exchange (CBOE), and Nasdaq OMX PHLX (PHLX) exchanges. Throughout Thursday's trading, investors bought to open 1,372 calls, as opposed to 926 puts, bringing TGT's single-day call/put volume ratio to 1.5.
As it turns out, calls have been the options of choice on TGT in recent months. Traders on the ISE, CBOE, and PHLX have bought to open 3.11 calls for every put during the previous 50 trading sessions. This ratio ranks higher than 87% of other such annual readings, implying that bullish bets have been scooped over bearish at a faster-than-usual clip.
Heading back to yesterday's activity, it appears that one speculator used both calls and puts to employ a long strangle in the October series of options. Specifically, two blocks totaling 1,000 October 50 puts crossed the tape at $1.19, while two symmetrical blocks of 1,000 October 62.50 calls changed hands at the ask price of $0.63. A net debit of $1.82 was incurred for the play.
In order for the spread strategist to begin to profit, TGT needs to crack one of two breakeven levels by October expiration: the $48.18 mark (put strike - net debit), or the $64.32 mark (call strike + net debit).
Should the stock fall all the way to zero over the next five months, the trader will pocket a hefty profit of $48.18 (put strike - net debit).
Conversely, if the security shoots to the moon, her profit potential is theoretically unlimited. If the security churns in a sideways channel between now and October, the maximum potential risk is limited to the net debit paid.
See also: How to Trade Option Strangles
As it turns out, TGT has been stuck in a trading range recently, with the equity bouncing around in the $56-$59 neighborhood since early March.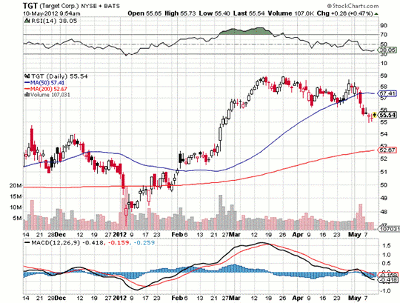 Click to Enlarge
From a longer-term perspective, though, TGT has had a solid run on the charts, with the stock sitting on a healthy 17.8% year-over-year gain, and adding an impressive 13.2% in 2012.
By Karee Venema, contributor, Schaeffer's Research