As the Greek Tragedy Plays On
Focus: OPTIONS
Everyone seems to have ideas for playing the ongoing drama in the Eurozone. Mark Sebastian of OptionPit.com, offers an angle using currency options.
I am always trying to teach my options mentoring students to find opportunity. The key is to understand what the opportunity, where the edge, and what is are the risk. Take a look at FXE; the IV 30 of FXE just hit a 104-week low.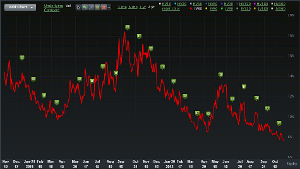 Livevol® www.livevol.com
Click to Enlarge

Does this mean that the IV is an absolute must buy? That we should be backing up the truck on FXE premium. The short answer is no. The long answer is yes and no. Take a look at this chart from VOLX.US.
While the yellow line (where we are trading) appears to be a generally lower bound for forecasted realized volatility, notice what happened in the mid-2000.
!--start-->
---