Join Bob Lang LIVE at TradersEXPO Chicago!
Join Bob Lang LIVE at TradersEXPO Chicago!
Chart Setting Up to Go 3D
11/08/2013 8:00 am EST
Focus: OPTIONS
Bob Lang of ExplosiveOptions.net highlights an opportunity he sees setting up in this 3-D software company.
Earlier this week, I talked about a trade opportunity in AutoDesk (ADSK) based on the huge option volume buying and overall higher stock turnover. The charts/technicals also portray a solidly bullish condition, and it appears higher prices are ahead. The breakout seen on Friday is notable and I would certainly like to see some follow-through but this has the makings of a big move.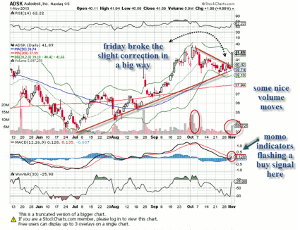 Click to Enlarge
I have taken on Dec calls for this play as I always like to give it some time, be patient, and let it work. My chart is above, but I have also add the chart/comments from my good friend Jeff York as confirmation. We often see eye to eye on charts but the timeframes are different—but in this case we are in alignment.
By Bob Lang of ExplosiveOptions.net