Big Wheels Keep on Turning
03/24/2014 8:00 am EST
Focus: OPTIONS
Technician Greg Harmon of Dragonfly Capital offers an option trade idea based on the recent strength of the transportation sector.
You may have notice that I put on a long position in CSX Corporation (CSX), on Wednesday. Let me explain my thinking. I did the trade 25 minutes before the release of the FOMC statement. That should give you a clue that this was not a short-term-oriented trade.
Here is what got me excited. For starters the entire transportation sector is on fire, making new highs. Specifically to CSX, the weekly chart below is marked very simply. There is a "w" consolidation that took place from mid 2011 to mid 2013. A break out above that consolidation ensued in late 2013. The break out was retested at the start of the year and it moved back higher.

Click to Enlarge
The other indicators, RSI and MACD, support more upside and the three-box reversal point and figure chart has a price objective of 50. With the stock consolidating at the previous high, it appears ready to break out. The daily chart is also looking good. With just an Andrew's pitchfork price is following the median line higher.
A pullback to support at 27.50 would be an ideal entry, or a break out over 29. My trade was a bit of a bullish compromise. Putting on a bullish risk reversal, I bought the April 30 call and at the same time sold the April 27.50 put. This combination paid me two cents to put on. This takes margin, but just as much as owning the stock at 27.50. If all goes well and it rises there is a lot of leverage in this trade to reap gains.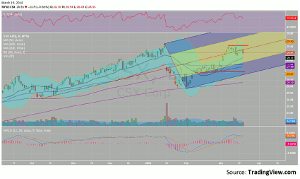 Click to Enlarge
If the stock does not rise but goes back to the 27-27.50 consolidation range, I run the risk of being put the stock at April expiry. But I already stated that the 27 area was a good entry point. Obviously, if it looks to keep falling it would require a hedge at some point. If it does move higher, then I am left with a decision to take off the trade ahead of earnings, April 15, or create a longer-term trade out of it.
By Greg Harmon of Dragonfly Capital