Crude Oil Running Out of Gas
05/02/2014 8:00 am EST
Focus: OPTIONS
In his view, crude oil has traded below the last critical support area, so Matt McKinney of Zaner Group offers some bearish option plays on crude.
Fundamentally, West Texas Intermediate (WTI) at the time of this writing (4/30, 9:52am ctrl) is trading at its lowest level in about four weeks. I believe this could be the start of something much larger in terms of a bear run. The proof is in the pudding as they say when the Department of Energy (DOE) stated that US crude supplies fell 1.698 million barrels at 399.357 million barrels total. This extends a US record for stock piles.
Maybe the market will finally pay a little bit of attention to old-fashioned supply and demand economics, which typically goes this way: if there is an abundance of supply and low demand then prices should go lower. On the other hand, if supplies are tight and demand is high then prices should go higher. That, in my view, is the good old-fashioned law of economics.
However, with crude oil futures traders including hedgers, speculators, commercials, banks, institutions, hedge funds, coupled with what might happen in the Middle East and more you can throw supply and demand out the window many times.
Daily June Crude Oil Futures Chart
Technically, on this June daily crude oil futures chart I have applied my favorite technical indicators like the 9-, 20-, and the 50-day simple moving averages (SMAs), the Bollinger Bands (BBs, light blue shaded area), volume, and candlesticks (green and red bars, where each bar represents a day).
Technically, my favorite indicators show me that the June futures crude oil market could be on the verge of a "super-trend" down and well on its way to what I believe to be more realistic prices. The first item that stands out to me on this June daily crude chart is that the market has fallen well below the 50-day SMA (blue line) for the first time in months other than a blip in March. According to my technical analysis, this is very bearish.
I also notice that the 9-day SMA (red line) has been pointing on a sharp angle lower for about a week starting on the 22nd of April when crude oil fell about $1.85/barrel in one day. This indicates a downward trend in the short term. This could also be the first step to a much bigger bear move. Stay tuned.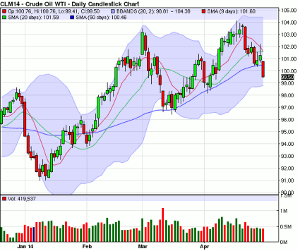 Click to Enlarge
Option Play
Since, I am now bearish on this market, there could be several ways to play this market with options, and one could be to buy straight put options or bear put spreads in a 3 to 1 ratio with a put for a hedge or "insurance" in case the trend changes on a dime and the market falls.
Another potential play could be to sell calls or bull call spreads, again with protection, maybe in the form of a futures contract or with other option plays. I also believe a good way to manage risk when collecting premium could be having a solid number at which to exit the trade.
Remember, when you sell naked options you have unlimited risk and should have a "well funded" account of risk capital.
By Matt McKinney of Zaner Group