Google This Options Play
05/07/2014 8:00 am EST
Focus: OPTIONS
With the tech sector sell-off seemingly over, but still volatile, Andrew Giovinazzi of OptionPit.com offers an options play on one of its most dominant companies.
Somewhere, as the market kicks around the all-time highs, the tech stocks are recovering from the shellacking they took. I don't know if Netflix (NFLX) will see $400 this year or Tesla (TSLA) $255. We do have volatility in the large indexes scraping the bottom of the barrel so the big tech selloff has subsided for now.
I don't really count Google (GOOG) in the hyper-momentum category. The company dominates in its area, has tons of cash and with Apple (AAPL) pretty much owns the smart phone market. Every year or so, GOOG goes on a spending binge, and that freaks everyone out that they cannot grow margins. Q1 in 2014 is shaping up to be the nasty quarter.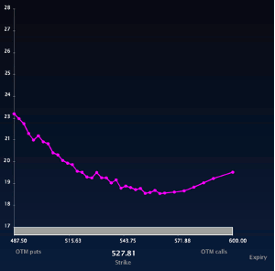 LIvevolX® www.livevol.com
Click to Enlarge
The market takes the upside out by crushing the call skew down. It happens time and time again as a trade. If you look at the just OTM calls about 30+ days out the call skew is downward sloping to a point. That makes long ratio calls spread pretty cheap to put on with limited downside risk.

LIvevolX® www.livevol.com
Click to Enlarge
What is still in the tech sector is a bit of realized volatility. The stocks are moving around. GOOG can move like any other and is showing brisk movement long past the earnings date. Realized vol. versus implied is looking crazy good at these levels. How much AAPL can you buy anyway?
The Trade
Long ratio backspreads in GOOG on the Jun 13 cycle, and when GOOG launches, unwind.
By Andrew Giovinazzi, Chief Options Strategist, OptionPit.com