Portfolio Indexing with E-mini S&P 500 Futures
10/26/2015 8:00 am EST
Focus: FUTURES
Blake Robben, of Archer Financial Services, points out that the only thing you need to worry about when trading futures and futures options contracts is timing. Blake also shares some tips as well as some of the benefits associated with trading E-mini futures contracts.
Location, location, location…are the three most important rules to live by in the real estate market. Well, timing, timing, timing…is the only thing you should concern yourself with when trading futures contracts. Also, never trade with scared money, which is money you cannot afford to lose. The most important advantage of trading E-mini futures is 23/6 access. While stock ETFs do not trade at night, a futures and futures options trader can virtually enter trades 23 hours a day, starting Sunday night concluding Friday late afternoon.
Weekly E-mini S&P 500 Futures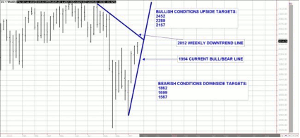 Chart provided by QST
Click to Enlarge
Furthermore, you can adjust your leverage ratio from 1 to 1 to higher levels. For beginners, I would suggest starting out 1 to 1 then work your way up to more leveraged situations. In addition, S&P 500 E-mini futures can provide portfolio hedging during market corrections and leverage indexing during bull runs.
By Blake Robben of Archer Financial Services